Zimbabwe politicians have addressed messages of sympathy following the disclosure that President Robert Mugabe's chief rival has colon cancer. A former prime minister, Tsvangirai, who lost the 2013 presidential elections against Mugabe, has led the Movement for Democratic Change (MDC) since 1999.
On Tuesday (28 June 2016), Tsvangirai publicly announced that he was undergoing treatment in neighbouring South Africa.
Despite his medical condition, Tsvangirai affirmed he was ready for the fight of his life and the political fight to rescue drought-stricken Zimbabwe.
While most political leaders – especially 92-year-old Mugabe – have not spoken of rumoured medical conditions, Tsvangirai, 64, made the unusual step, saying it was essential for national leaders to disclose their health status.
Mugabe frequently denies persistent rumours that he is suffering from prostate cancer and has sought life-saving treatment in Singapore, where he says he travels to for routine medical checks.
Tsvangirai 'deserves to see a new Zimbabwe in good health'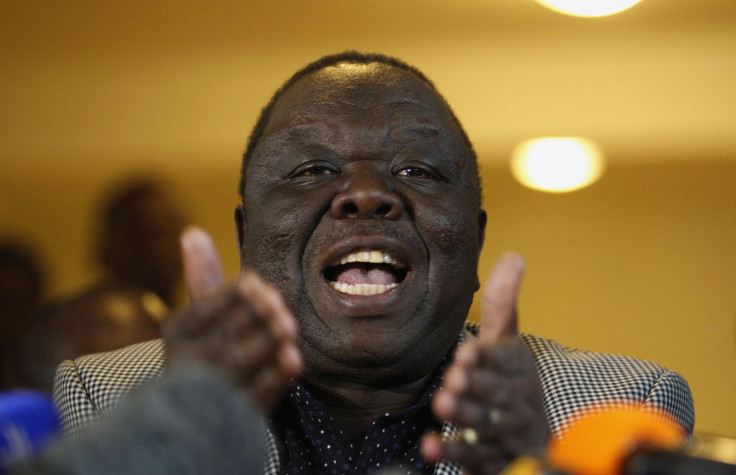 The leader's announcement prompted a wave of condolences. Former vice-president Joice Mujuru, the leader of Zimbabwe People First (Zim-PF) party, said she wished Tsvangirai well and urged Zimbabweans to give the leader the privacy necessary during his time of recovery, according to NewsDay newspaper.
"We applaud the former prime minister for coming out in the open about his medical condition. As a party, our prayers are with him and we urge Zimbabweans to give him the privacy that he needs during this time that he is on the mend," Mujuru's spokesperson Gift Nyandoro said in a statement on Tuesday (28 June).
Other political parties have also expressed their condolences.
"We are sure he is a fighter and that he will find the strength to fight this battle as he has fought against the oppression of the people of Zimbabwe,"Jacob Mafume, People's Democratic Party (PDP) spokesperson, was quoted as saying. "We are confident that he will be well in order for him to put his broad shoulder to turn the wheel of democracy and justice for all together with others. We are certain that he deserves to see a new Zimbabwe in good health. We wish him a speedy recovery." Tendai Biti, who leads the PDP, said he was saddened by the news.
Jonathan Moyo, who belongs to the ruling Zanu-PF party and is also a member of the party's Politburo "wish(ed) Tsvangirai full and complete recovery in his fight against colon cancer" in a Tweet.
This comes just weeks after five opposition parties formed a coalition to challenge the the head of state and his Zanu-PF party in the 2018 general elections, as the bitter battle to succeed Zimbabwe's ageing President drags on.