As the bitter battle to succeed Zimbabwe's ageing President Robert Mugabe drags on, IBTimes UK profiles wild card, and former Vice President, Joice Mujuru who is set to join the race.
As one of the first female commanders of ZANLA, the military wing of the Zimbabwe African National Union (now ZANU-PF) during the Rhodesian Bush War in the 1970s, Mujuru is described by many as a war heroine. With a nom de guerre of 'teurai ropa' (spill blood), she was once reported to have downed a helicopter with a machine gun.
Mujuru took the reins of her late husband Solomon Mujuru's ruling ZANU-PF party faction, after he died in a mysterious accident in 2011, and became a new rival in the decade-long succession fight.
Once a powerful ally of Mugabe, Mujuru was, however, sacked by ZANU-PF in 2014 - after accusations emerged that she was plotting to kill the president - a move many described as orchestrated by First Lady Grace Mugabe.
New party to 'transform' Zimbabwe
Despite such accusations - which she has always denied - the 61-year-old resurfaced this year with the launch of Zimbabwe People First (ZPF), a party in opposition to ZANU-PF that seeks to
"transform and build" a new nation. Mujuru claims, "Zimbabwe
is a broken country
", one where people live under an unjust system that applies the law selectively.
Described as a reformist, Mujuru is now seen as a true contender for leadership, and commentators have highlighted how her 10-year stint as Mugabe's deputy enabled her to cultivate a strong support base within the party. During the launch of the ZPF, for instance, Mujuru was flanked by other former ZANU-PF heavyweights, former Presidential Affairs minister Didymus Mutasa and former Minister of Economic Development and Minister of Agriculture, Rugare Gumbo.
"While it is important to have figures from ZANU-PF from the war, the key thing (for ZPF's success) is that the person who is fronting this new party is Joice. She has credibility from the war, and her partner (Solomon) was the most senior general from the war in 1980. You can't take that away from her," Blessing-Miles Tendi, who teaches politics in the University of Oxford's Department of International Development, tells IBTimes UK.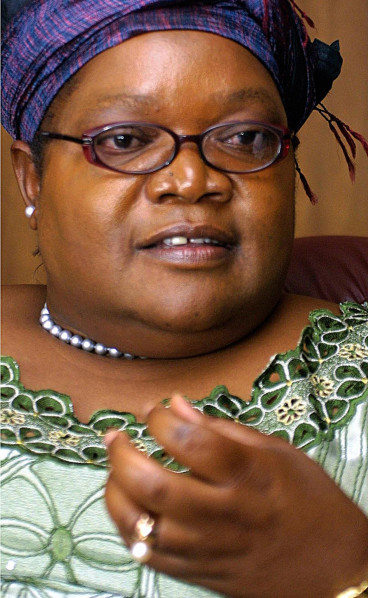 Politics 'unattractive' to youth
While Mujuru is seen as able to carry out reforms that external investors or development aid donors would want, Tendi believes the real challenge for ZPF is the fact that Zimbabwean politics have largely been unattractive to young people because the system is seen as violent and lacking gravitas.
"In addition to that unattractiveness, this sense of war generation, which almost wanted to have exclusive control of national politics, closed out young people, and this is why you have a 92-year old man at the reigns of the country," Tendi says.
"There's a whole generation of young, educated, really smart people who could contribute to the country and would be willing to do proper public service but have not found an avenue. Her ability to succeed depends more on tapping into those young people than getting any of the ZANU-PF old guard. Thus far, I have not seen that."
Will Mujuru be able to attract a young generation of supporters and voters before the 2018 election? It's far from certain: Zimbabweans are still waiting to see what will come out of the ZPF party congress - anticipated at the end of 2016 - during which senior officials will be nominated and party structures will be put in place.
But who will pay the bills?
The second challenge will be funding the new party.
The traditional elements that supported democratic opposition parties in Zimbabwe - these were largely Western - appear to have lost their appetite to back a new opposition. In the 2000s - they backed Morgan Tsvangirai's Movement for Democratic Change (MDC), which was seen as a way of bringing an end to ZANU-PF. However, the party suffered a decisive defeat in the 2013 elections, when Mugabe and ZANU-PF won another majority.
"The British Foreign & Commonwealth Office (FCO), for example, was traditionally sympathetic to opposition parties in the past but now this has changed, and they are actually cosying up to ZANU-PF," Tendi tells IBTimes UK.
"Mujuru is going to have a hard time finding the money externally. Internally, because of the troubled economy (that relies heavily on commodities), finding wealthy business people willing to plough money to a new political project is highly unlikely," Tendi says.
Mujuru has been around ZANU-PF since the 1970s, and consequently she is said to carry the stigma associated with the long-ruling party. And if she is to have any chance of winning a general election, she will have to get young people on board, and create a project that is more substantive and appealing than just ZANU-PF part two.
Tendi added: "People wonder why they should trust her. What she said during her press conference sounded attractive on paper, but the only way she can go beyond that is to convince by being this figure that is breaking through and reaching young people."
Sources close to ZANU-PF and ZPF have told IBTimes UK that an agreement between Vice-President Emmerson Mnangagwa and Mujuru may be in the making, though neither has confirmed negotiations are ongoing. Such an arrangement would bring together allies from the military's senior generation and could yet play a crucial role in deciding Zimbabwe's future leadership.