Morocco to become renewable energy superpower with world's biggest concentrated solar plant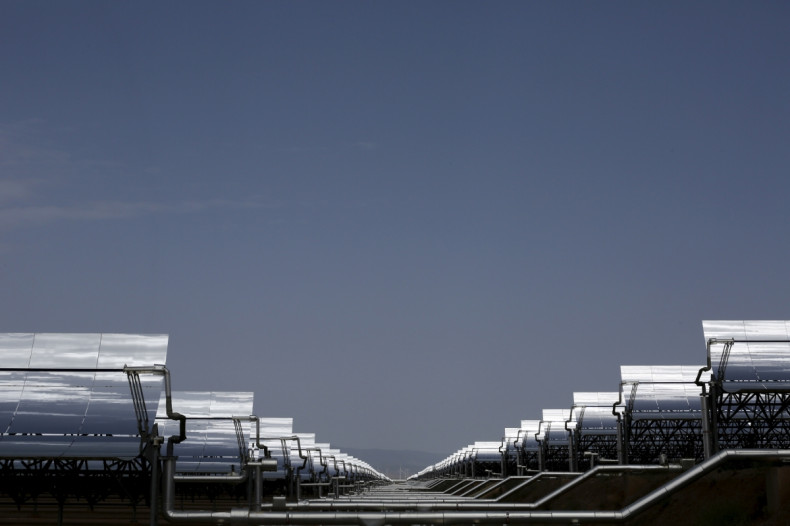 Morocco is set to join the vanguard in renewable energy with the opening of a concentrated solar power plant in Ouarzazate. The plant is part of a plan to procure half of Morocco's electricity from renewable energy sources by 2020.
Noor 1 has 500,000 solar mirrors in 800 rows and is the first of four plants in the Saharan desert that, when finished, will cover an area the size of the country's capital, Rabat. This first plant will provide 160MW of power. Noor is the Arabic word for light.
Each of the mirrors is pointed towards a pipeline that carries a heat transfer solution. The sunlight heats up the solution which is then mixed with water to create steam that turns a turbine and generates electricity. The project costs $9bn (£6bn) and the Noor 2 and Noor 3 plants are expected to open in 2017.
Once completed, the plant will produce over 500MW of electricity and will be the largest in the world using concentrated solar power technology. The largest solar power facility in the world is currently the Solar Star project in Rosamond, California.
In 2016, Morocco will host the 22nd session of the Conference of Parties (COP22) in Marrakesh. The 2015 Conference of Parties, COP21, occurs in Paris between November 30th and December 11th 2015 and is set to be where the next big global climate agreement is finalised.
Once the plants are producing, Morocco hopes to be generating enough energy to start exporting to neighbouring countries like Mauritania, and even possibly to Europe.
By 2020, the country is hoping to source half of its energy from renewables, a third of that will be solar power, the other two thirds will come from wind and hydro power. Currently, 94% of Morocco's energy comes from imported fossil fuels, Hakima el-Haite, Morocco's environment minister, told the Guardian. "That has big consequences for our state budget".