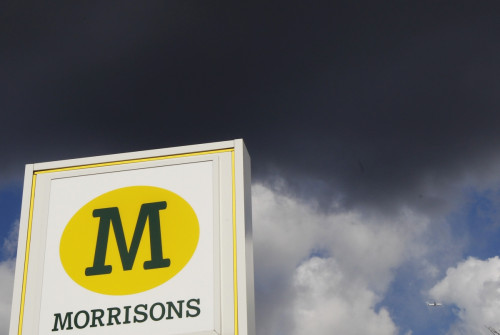 Morrisons shares tanked by as much as 6% on an ominous trading update from the British supermarket warning it had a "very challenging" Christmas period.
The firm said like-for-like sales fell 5.6% in the six weeks to 5 January, excluding fuel. This drop sharpens to 7.1% including fuel sales. Total sales were down 1.9% excluding fuel, with a 3.3% including fuel.
It blamed tough times for UK consumers, whose incomes have been in real terms decline as prices rise faster than wages, and its failure to keep up with the growing importance in the grocery market of online, convenience stores and targeted couponing.
"In a very tough market our sales performance over Christmas was disappointing," said Dalton Philips, Morrisons chief executive.
"However we are firmly focused on driving our core business and accelerating our penetration of the fast growing channels.
"Our convenience business is building towards an operation of scale and the first food deliveries of Morrisons.com will be made tomorrow, reaching half of UK households by the end of the year."
Morrisons has long been without an online offering for its customers, even as its rivals raced ahead in penetrating the internet grocery market.
However in May 2013 it inked a deal worth more than £200m with online retailer Ocado. The agreement is to use Ocado's technology behind its ecommerce platform and for logistical support from its distribution centres.
Morrisons is also rolling out new convenience stores. It expects to open 200 by the end of 2014/15.
Bosses predict the firm's full-year underlying profit to be towards the bottom end of the estimated £783m to £853m range.
During the third quarter, Morrisons had reported falling sales because of its lack of exposure to the online and convenience grocery markets.
"Although its relative absence in the two growth channels won't have helped, it is wrong to look at growing its offer in these two routes to market as a magic bullet," said Matt Piner, research director at retail analyst Conlumino.
"Aldi has proved it is possible to succeed without, and Morrison's problems increasingly appear to run deeper. Consumers now appear unsure what Morrison's stands for, and what the relative advantages of shopping there are.
"In a highly competitive market, where the likes of Aldi, Waitrose and Sainsbury are brutally clear about the benefits of shopping there, that is a dangerous position for Morrison's to be."