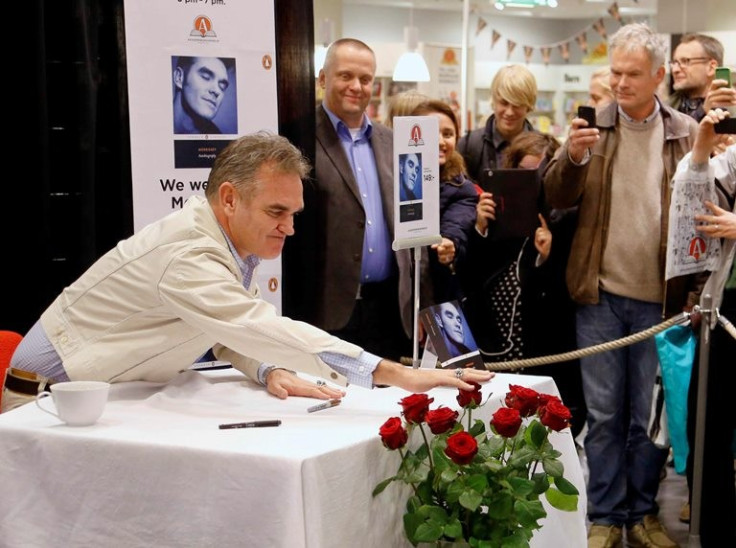 Pop icon and militant vegetarian Morrissey has denied being "gay", despite spilling the beans in his just-released memoir about a long-term relationship he had with another man.
Morrissey, one of Manchester's most famous sons, despite being a long term resident of Los Angeles, writes in his book - simply titled "Autobiography" - that in his thirties he had a two-year affair with a man called Jake Owen Walters:
"For the first time in my life the eternal 'I' becomes 'we', as, finally, I can get on with someone. Jake and I fell together in deep collusion whereby the thorough and personal could be the only possible way and we ate up each minute of the day."
For many of Morrissey's fans, that seemed to finally settle the debate over whether the former Smiths frontman was gay, straight or asexual. Many of Morrissey's lyrics contained ambiguous statements about sexuality and he famously appeared on Top of the Pops carrying daffodils. Yet now Morrissey has once again muddied the waters. In a statement released to the internet he says:
"Unfortunately, I am not homosexual. In technical fact I am humasexual. I am attracted to humans. But, of course ... not many."
Morrissey, who now claims to be single again, has caused controversy on numerous occasions. He refers to the pop star Madonna as "McDonna"; has blamed immigration for the "disappearance" of British identity; and in 2011 claimed the actions of fast food chains like KFC were as bad as those of Norwegian fanatic Anders Breivik.
Confusion surrounded the release of Morrissey's long-awaited autobiography. In September the singer claimed he had pulled plans to publish the book with Penguin due to disagreement over content. The book was finally published last week but only when Penguin agreed to publish it in their Classics series.
In the book Morrissey describes in detail his upbringing in a desolate part of Manchester, and claims he was inappropriately touched by a teacher when he was 14. However much of the book is devoted to the singer's run-ins with other musicians and a series of court battles with co-creator of The Smiths Johnny Marr and other band-members.