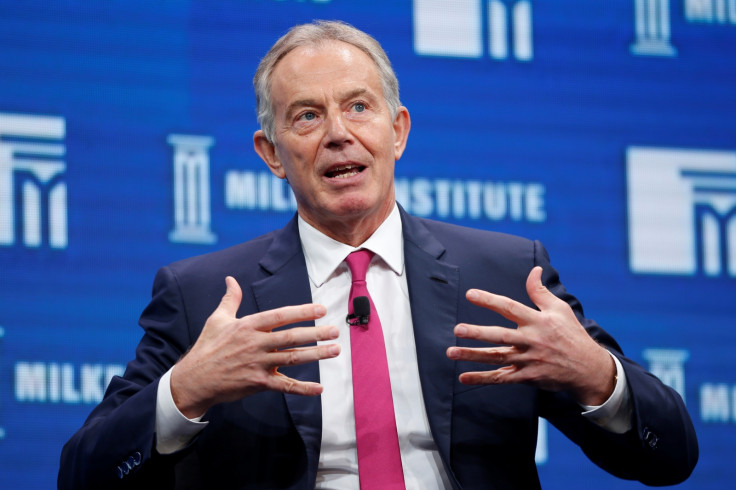 Former British prime minister and Labour leader Tony Blair has used a TV interview to deliver a scathing attack on his successor Jeremy Corbyn.
He accused Corbyn of "standing by" while the Syrian people were "barrel-bombed and starved into submission" and said he was guilty of focusing on the "politics of protest" rather than the "politics of power".
Blair told Bloomberg: "I'm accused of being a war criminal for removing Saddam Hussein who, by the way, was a war criminal – and yet Jeremy is seen as a progressive icon as we stand by and watch the people of Syria barrel-bombed, beaten and starved into submission and do nothing."
Corbyn, who as a founding member of Stop the War coalition was strongly opposed to military intervention in Iraq and refused to back air strikes in Syria when parliament voted on it in November 2015.
Blair said: "There's a guy whose face is on the placard. That's me: hate that guy. You're the person in power taking difficult decisions. Jeremy is the guy with the placard, he's the guy holding it. One's the politics of power and the other's the politics of protest."
In response, a spokesman for Corbyn said: "I think what Tony Blair says is a matter for him, but if he's suggesting that Jeremy Corbyn is leading a politics of protest, I would say that's not correct."
In the latest bloodshed, on Wednesday 8 June at least 15 people were killed and dozens wounded in a series of air strikes on rebel-held areas in the city of Aleppo. Activists said that one strike hit near the Bayan hospital in the eastern Shaar district.
Blair faces close scrutiny in the coming weeks, with the Chilcot report into the lead-up and aftermath of the Iraq War likely to be critical of Blair and the intelligence and military chiefs.
Sources close to Blair have been quoted as saying Blair still did not regret removing Saddam and blamed the interference of Iran and Al Qaida in destabilising the country, post-reconstruction.