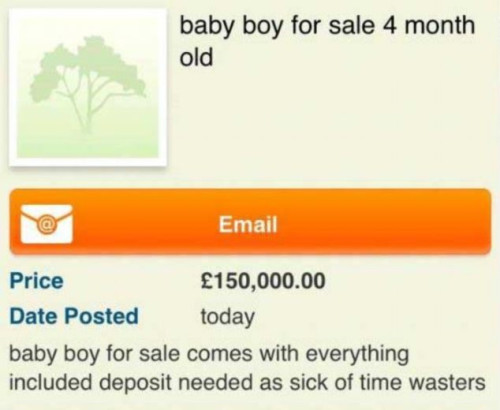 A young mother who placed an advert to sell her four-month-old baby on the internet for £150,000, has said it was a "silly, silly joke."
The 20-year-old advertised the "beautiful baby for sale" on the Gumtree classifieds website on Boxing Day.
Police and social services were alerted after members of the public reported the ad. The woman's two children have since been taken into care by social services.
The full-time mother from Bradford offered explanation for her horrifying actions saying: "I had been joking with my ex about selling sperm and eggs and he sort of dared me to put up a baby for sale – but I didn't mean our children."
"I put on Gumtree that I was selling a baby for £150,000. I just plucked that number out of thin air and I claimed I was acting as an agent for a friend.
"It was very stupid and I shouldn't have done it, but I didn't think it would be taken seriously.
"'I love my boys and they make me so happy and I want them to be happy. It was just a silly, silly joke."
The young mother, who suffers with post-natal depression, said she had no intention of going through with the sale. She is now said to have been left devastated after her two sons were taken away.
"I was crying and begging at this one social worker's feet, but she just took my son away.
"I am so upset and just want my boys back. It is my mistake, my stupidity. It should be me who is locked up, not the boys having to live with strangers. This is making my depression even worse," she added.
"I am so sorry. I have not even been allowed to speak to them on the phone and I don't know when I'll see them again. I hope it is soon and they can come back to me."
A user of the site emailed the mother wh, it is alleged, explained that she was selling the child "because it cries."
When asked if the offer was genuine, the mother confirmed it was, because she wouldn't want to "shatter anyone's dreams."
Detective Inspector Vanessa Smith, of Bradford police, said: "The child concerned, who is both fit and well, is being looked after in conjunction with relatives and social services. The mother is receiving appropriate care."
Julie Jenkins, assistant director of children's specialist services at Bradford council, added: "We worked with the police to establish the safety of the child and we have made sure the child and the family have appropriate support."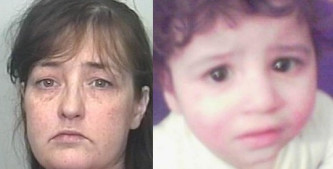 Social services in Bradford came under the spotlight this year following the trial of Amanda Hutton, 43, whose four-year-old son Hamzah Khan was found mummified in 2011. She was jailed for 15 years for manslaughter in October.
A review found that social services had missed warning signs that could have prevented the tragedy.