Mount Agung eruption: Bali declares state of emergency as volcano threatens to blow
More than 140,000 people have fled the region in recent weeks.
Bali has declared a state of emergency as the island prepares for an imminent eruption of the Mount Agung volcano.
Mount Agung has been on high alert since 22 September, when it entered a "critical phase" of heightened seismic activity. Hundreds of tremors and signs of magma rising to the surface of the volcano have been reported since August.
The number of tremors has decreased in the past two days, according to Gede Suantika of the government's volcanology division (PVMBG).
Despite the reduced tremors, Mount Agung remains on the highest alert level and 54 signs have been placed around the volcano, warning people to keep their distance.
More than 140,000 people have fled the region surrounding Mount Agung in recent weeks. The total number of evacuees has almost doubled in the past week, when 76,000 people were estimated to have fled.
The island's governor, I Made Mangku Pastika, declared the state of emergency in order to provide assistance to thousands of evacuees, his office said on 2 October.
Local governments are obliged to provide areas that have declared a state of emergency with funds and evacuees with aid.
"City-level governments in Bali need to take steps to provide shelters for evacuees and meet their basic needs, adequately," Bali province spokesperson Dewa Gede Mahendra Putra said.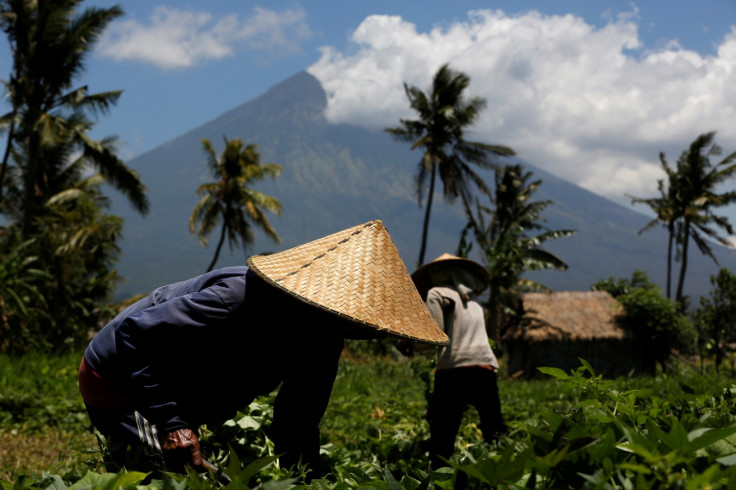 The state of emergency is set to end on 12 October, but may be extended if required.
Mount Agung, located more than 3,000m above sea level in the eastern part of Bali, is a popular tourist destination, situated around 70km from the main tourist areas of Kuta and Seminyak.
Indonesia, which is home to nearly 130 active volcanoes, lost more than 1,000 people in 1963 when Mount Agung last erupted.
© Copyright IBTimes 2023. All rights reserved.