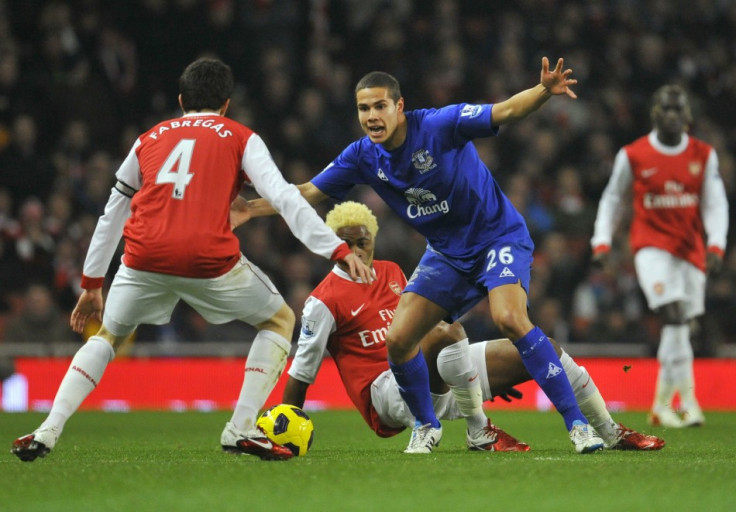 Everton manager David Moyes has warned Jack Rodwell's numerous suitors, said to include Chelsea, Manchester City and Tottenham, that it would take a huge amount of money to prise the prodigious Englishman away from Goodison Park.
Reports from Skysports.com on Tuesday claimed Chelsea, Manchester City and Tottenham were all considering £20 million offers for the patently gifted Everton star in the January transfer window.
In direct response to the speculation, Everton boss Moyes has dismissed rumours of any offers and claimed any potential approach would have to be on the Toffees' terms.
The emerging England international, who prior to this season had endured a frustrating 18-months at Everton due to injury and loss of form, has recaptured some of the form that has made him one of the most coveted players in British football. Manchester City, Chelsea and Tottenham have all been most recently linked with the 20-year-old, but Manchester United and Arsenal have also been credited as possible admirers in the past.
The rumours in Tuesday morning's press suggest Rodwell is likely to emerge as an in-demand figure next month, and Moyes was keen to stress Everton's stance on their hugely promising individual, who is equally adept at centre-half.
"I have had no offers, no contact from Chelsea - there would not be any other words I could add to that," The Everton manager told the Daily Mail. "There is nothing from me. We've had no phone call."
While eager to rubbish reports of a pending move for Rodwell next month, the Everton manager did conceded the club were at the mercy of lucrative offers due to their well-documented financial concerns.
Moyes claimed the likes of Chelsea and Manchester City would have to match Everton's valuation in order to harbour any chance of luring Rodwell away from Goodison.
"We've always said if anyone wants to bid for the players we can't stop that happening but what we do do is sell expensively," The Everton chief continued.
"If we are sellers we are always expensive sellers."