The heroic MP who performed emergency first aid on a police officer who was stabbed during the Westminster terror attack said he is "heartbroken" he was not able to save Pc Keith Palmer.
Tobias Ellwood ran towards the officer, who was stabbed by Khalid Masood in an attack that left the officer and three others dead after the terrorist ploughed his car into pedestrians on Westminster Bridge before fatally stabbing Palmer.
An eye witness said: "He ran in opposite direction to everyone else, he ran towards the injured police officer."
Ellwood, who lost his brother in the Bali bombing in 2002, run towards gunfire to treat Pc Palmer, and was seen giving him mouth-to-mouth resuscitation and trying to stem the blood flow by applying pressure to his wounds, according to The Telegraph.
Ellwood said in a statement seen by The Evening Standard: "I am heartbroken that I could not do more for Pc Keith Palmer who gave his life in holding the line against terrorism and defending democracy.
"I shall be writing to the family of Pc Palmer to offer my sincere condolences.
The MP for Bournemouth South added: "It is right that despite the terrible events on Wednesday, Parliamentary business continued the next day as usual, the democratic machine was not interrupted and our way of life did not stop.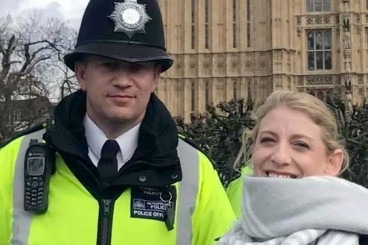 "I'm deeply humbled and overwhelmed by the messages of support, especially from the policing fraternity, which I now realise is as close knit as the military's in supporting its own."
At least forty people were hurt in the attack, with two people still in hospital receiving treatment for serious injuries.
"I played only a small part that day, doing what I was taught to do, and am honoured to have been invited to join the Privy Council afterwards," MP Ellwood added.
"It is right that we concentrate our thoughts on the victims as we stand side by side to protect all that we hold dear, including our precious values and way of life which will always prevail."
Masood was fatally shot by police during the attack, and the authorities are appealing for anyone with further information about Masood or the attack to come forward.