Timeline of radicalisation: Khalid Masood's visits to Saudi Arabia and violent life emerge
During one pub brawl Masood left his victim needing 20 stitches.
Khalid Masood – the man responsible for killed four people and wounding 50 other people in a terrorist attack in London – visited Saudi Arabia three times and told friends of his thirst to kill, as further details of the Westminster attacker emerged.
Masood, who was also known as Adrian Russell Ajao and Adrian Elms, was shot dead in London on Wednesday (22 March) after mowing down helpless pedestrians with a rented 4x4 and fatally wounding PC Keith Palmer with a knife.
In the hours after launching the attack in the heart of British democracy, the Metropolitan Police carried out a series of raids in London, Birmingham and Manchester, arresting 11 people in total.
In a statement on Saturday, police confirmed the last two men taken into custody during the raids were released with no further action.
A number of former friends and acquaintances have also spoken out about Masood's violent past and his run-ins with the law.
Masood's criminal background traces back to 1983, but his violent temper first got him sent to prison after a brawl in a Sussex village pub turned ugly.
After being subjected to slurs with "racial overtones", Masood brandished a knife and slashed the face of pub landlord Piers Mott, leaving him needing 20 stitches.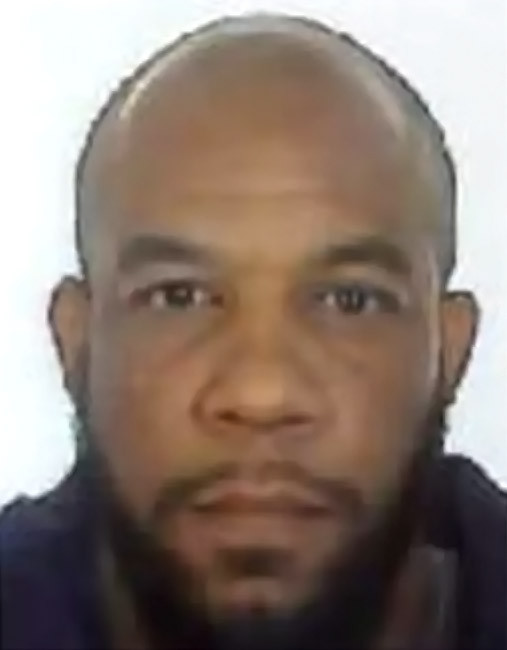 A picture of Khalid Masood released by Metropolitan Police
Metropolitan Police
Lee Lawrence, 47, a friend of Masood's at the time told the Telegraph how he tried to calm him down after witnessing the brawl.
"I was driving past and I saw what was happening," he said. "I got out of my truck and said everybody just get back in the pub and leave him with me. His eyes had rolled and he was out of this world.
"Once outside the pub, he also began slashing Mr Mott's car seats."
While trying to calm him down, Masood's anger turned to Lawrence.
"He had the knife against my throat and he is going: 'I want some blood, I want some f*****g blood, I want to kill someone.'
"After he calmed down a bit he was saying: 'What have I done? What am I doing? I am going for help, I just want blood or I want to kill someone.'
"He said he was having help, some kind of anger management."
Masood was jailed for two years for the attack but was arrested again in 2003 after another brawl broke out and he was charged with attempted murder.
It was then, while on remand and facing trial, Masood is believed to have been radicalised.
The Saudi embassy in the UK confirmed Masood visited the Kingdom three times between 2005 and 2015.
"The Royal Embassy of Saudi Arabia wishes to clarify that Khalid Masood was in Saudi Arabia from November 2005 to November 2006 and April 2008 to April 2009, when he worked as an English teacher having first obtained a work visa," the embassy said in a statement.
"In 2015, he obtained an Umra visa through an approved travel agent and was in the Kingdom from the 3rd-8th March."
During the attack in Westminster, Masood killed four people killed and injured more than 50.
Anyone with further information about Masood or related activities is urged to call the Anti-Terrorist hotline on 0800 789 321.