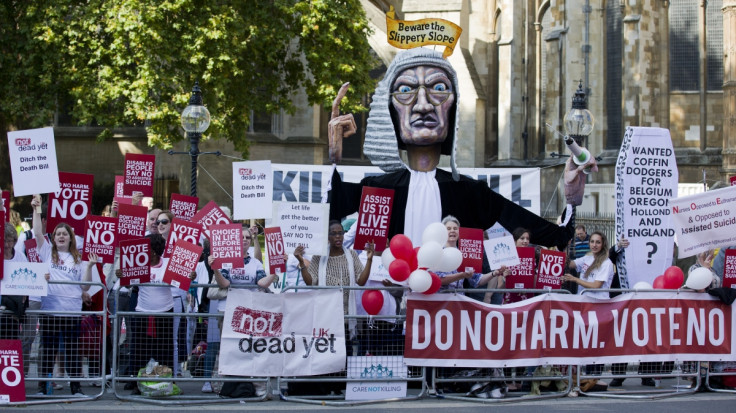 MPs have rejected plans for an assisted dying bill in England and Wales in the first House of Commons vote on the issue for nearly 20 years. In the vote, 118 MPs were in favour of the bill and 330 opposed plans to allow terminally ill patients to end their lives with medical supervision.
Under the proposals, people with fewer than six months to live could choose to be prescribed a lethal dose of drugs, which they would administer to themselves. Two doctors and High Court judge would have been required to authorise each case.
In an impassioned debate, MPs discussed the bill for four hours. Labour MP Rob Marris who proposed the private member's bill from the backbenches said the current law was a "mess" and that parliament must "grasp" the issue.
He said: "I don't know if I had a terminal illness with a prognosis of less than six months if I would. But I and many other people would find it comforting to know that the choice is available – to have the option of choosing a dignified and peaceful death at a time and place and in a manner of my own choosing, at my own hand."
His proposals were attacked from both sides of the bench. Tory Fiona Bruce said "We will have crossed the rubicon from killing people being illegal to killing people being legal."
Labour MP Barbara Keeley argued the campaign to legalise assisted suicide "reinforces deep-seated beliefs that the lives of disabled people are not worth as much as other people's".
Outside the commons, rival groups of demonstrators held up placards and shouted slogans.
Reacting to the vote, Pavan Dhaliwal, director of public affairs at The British Humanists Association, which supported the bill, said that most of the public supported the right to die "but it is clear that Parliament still has some way to go before it reflects this fact. In the meantime, countless individuals are needlessly suffering, or facing the prospect of travelling to Switzerland or having their loved ones illegally end their lives."
Dahliwal vowed to continue the fight for the right to die in the courts. "We will continue to campaign in favour of assisted dying for the terminally ill and incurably suffering, as this is one of the most pressing ethical issues of our day," she said.
Religious groups were among those opposing the legislation, and Archbishop Peter Smith welcomed "Parliament's recognition of the grave risks that this bill posed to the lives of our society's most vulnerable people".
"There is much excellent practice in palliative care which we need to celebrate and promote, and I hope now the debate on assisted suicide is behind us, that this will become a focus for political action," he said.