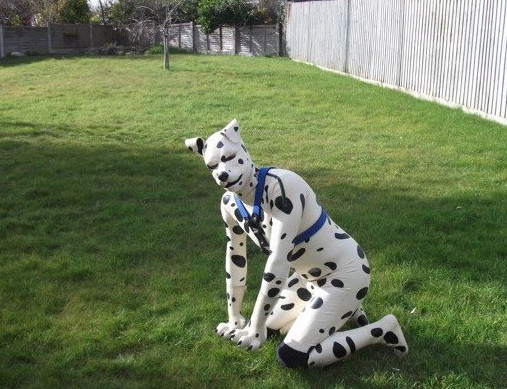 A new documentary exploring the pet play craze features the most recent winner of Mr Puppy UK – Tom from Tring in Hertfordshire. The 32-year-old theatre technician has spent around £4,000 ($5,803.60m) on his habit, but Channel 4's Secret Life of the Human Pups reveals it also cost him his fiance.
Tom, or Spot as he likes to be known, writes on his blog that he finds peace in his rubber costume, complete with breathing tube, "a means to be able to switch off from the outside world".
"I find enjoyment in just sleeping, chewing chew toys and not needing to worry about the day to day normal life," he says. "It's a means to escape from life."
He adds that the concept of human life disappears to him and he wanders rounds acting like an animal, on all fours. He "wants to be treated like a pup and act like a pup", he says.
As a result, he sleeps in a dog training crate, lined with puppy training pads in case he has to answer the call of nature.
"The final side of life is classified more as being 'behind closed doors' and is the more adult side of life," he says. "However, this does not ever make an appearance in public as it would be deemed inappropriate, and therefore spoil the fun that comes from entertaining people."
Around 10,000 people enjoy the pet play craze in the UK, according to the documentary which explores the phenomenon. Although some, like Kye, a 28-year-old Oxford graduate who dresses up as a dog, insist it is definitely not about sex. "It is a form of escapism," he insists.
However Tom who pipped Minty and Oakleigh to the Mr Puppy Crown in November admits that a tiny bit of him "regrets being a puppy" because he lost his fiance Rachel who "thought I was becoming gay".
However, on his, definitely adults-only, Twitter account Spot says he is owned by Colin, whose own profile describes him as being into "Lycra, Gunge, Pup Play, BDSM", Both accounts feature explicit images.
The Secret Life of the Human Pups will be shown on Channel 4 at 10pm on Wednesday 25 May.