USA Network's promising drama Mr Robot returns with season 2 on 13 July at 10pm EST. The premiere episode will pick up 30 days after the events of the season 1 finale, which featured fsociety's attack on Evil Corp that turned the economy and the world, upside down.
Warning: Potential spoilers ahead
A new promo released by the network recently, teases what may have happened to Tyrell Wellick in the season 1 finale, wherein fans saw ex-financial executive of E-Corp Wellick missing after agreeing to help Elliot with his hack. While the latter had no memory of the last 72 hours, it seems like Wellick will become the main suspect of the E-Corp hack, or at least this is what the promo shows.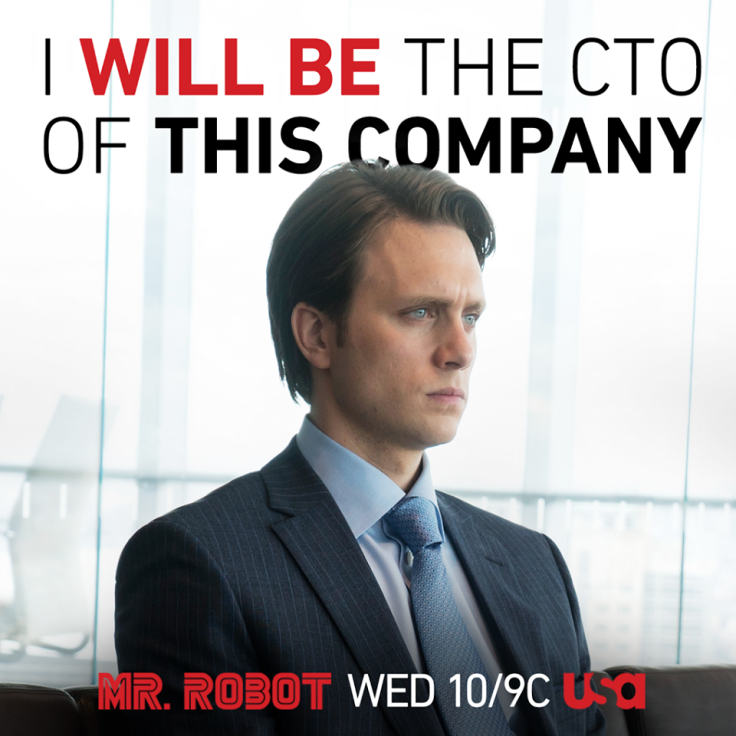 It begins with a newscast from New York Metro News. Referring to the attack on E-Corp as Five/Nine, the reporter talks about the "ongoing fallout from the 5/9 hack". The news states, "The on-going search for cyber terrorist Tyrell Wellick continues. Wellick, believed to be the leader of notorious hacking group fsociety, is suspected of masterminding the hack against E-Corp's data centres in both United States and China."
"Wellick is wanted for questioning in the murder of Sharon Knowles," says the reporter and adds, "Shockwaves from the cyber attack continue to reverberate throughout the economy."
The promo also states that President Obama and White House officials were looking into the hack, but are "seemingly unable to contain the crisis".
The second season of Mr Robot will deal with the consequences of cyberattacks and the "illusion of control". Another important plot for season 2 seems to be the growing battle between Elliot and Mr Robot, now that Elliot is aware that Mr Robot is not a real person, but just a manifestation of his dead father in the form of a hacker.
Rami Malek who plays Elliot told The Hollywood Reporter, "It's very different from last year. What he's trying to do, at all costs, is to remove him from his world." Christian Slater added, "Season two will go to some pretty dark places. We delve into several of the nooks and crannies of Elliot's psyche."
Mr Robot follows Elliot Alderson, a young cyber-security engineer who becomes involved in the underground hacker group fsociety, after being recruited by their mysterious leader (played by Christian Slater).
To find out more, watch Mr Robot season 2 that will air on 13 July on USA Network.