MS Paint to live on after Microsoft recognises 'outpouring of love'
Iconic art app will be available for free in the Windows Store.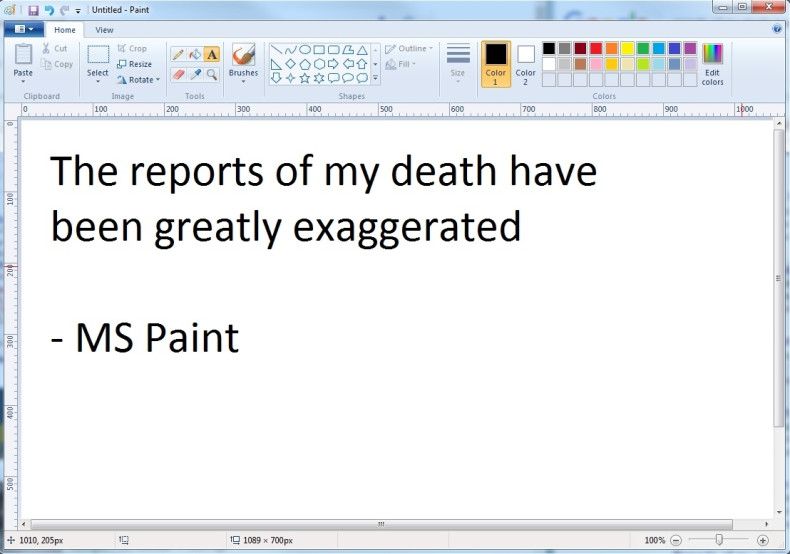 Microsoft has selected the eraser on news that the iconic Paint application will be killed off in a future update to Windows.
An outpouring of love for the 32-year-old art programme saw the computer giant issue a statement to say Paint will be preserved and available to download from the Windows Store, for free.
Megan Saunders, general manager of Microsoft's 3D for Everyone initiative, said: "Today, we've seen an incredible outpouring of support and nostalgia around MS Paint. If there's anything we learned, it's that after 32 years, MS Paint has a lot of fans."
In a bid to "set the record straight, clear up some confusion and share some good news", Saunders went on to say: "MS Paint is here to stay, it will just have a new home soon, in the Windows Store where it will be available for free."
That outpouring arrived after it was discovered that Microsoft had intended to add Paint to a "deprecated" list when the Windows 10 Fall Creators Update arrives later in 2017.
Apps on this list are no longer upgraded and await their removal with a future Windows update. The apparent death sentence was detailed by Microsoft in a blog post.
Being on the deprecated list means Paint is now an application which is "not in active development and might be removed in future releases".
Microsoft's clarification on the future of Paint is good news for many, but no longer installing Paint on Windows computers as standard may put it out of reach of many workers, who are unlikely to have the authorisation to install applications onto their machines.