At least eight people were killed and 11 seriously injured after a truck rammed through a bike path in lower Manhattan near the World Trade Center in "an act of terror" aimed at civilians on Tuesday (31 October) afternoon, police said.

A 29-year-old man, identified as Sayfullo Saipov, is said to have driven a white Home Depot rental truck down a bike path next to the Hudson River in New York City's Tribeca neighbourhood, near the World Trade Center memorial.
Saipov reportedly drove for as many as 20 blocks, hitting several people, before returning to the road and colliding with a school bus, injuring two children and two adults.
He exited the vehicle brandishing a paintball gun and pellet gun, and was shot in the abdomen by police. The suspect is under arrest and in hospital for surgery.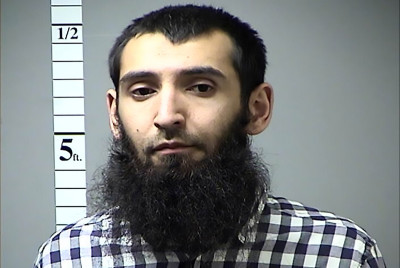 NYPD and first responders, including the bomb squad, are on the scene. Police are urging the public to avoid the area of Chambers Street/West Street, while a large section of the West Side Highway was closed for the investigation.
Police said they are not looking for additional suspects.
Meanwhile, according to a CNN report, authorities have found a note, written in English, in the truck. The letter reportedly claimed that the suspect carried out the act in the name of the Islamic State (Isis).
Mayor Bill de Blasio has been briefed on the situation, the mayor's office said on Twitter. De Blasio's office said that the mayor was en route to the scene of the incident.
Sky News reported that President Trump has been informed of the incident, which is being treated as a "possible terrorist incident".
Trump responded to the attack on Twitter, saying it was done by a "very sick and deranged person".