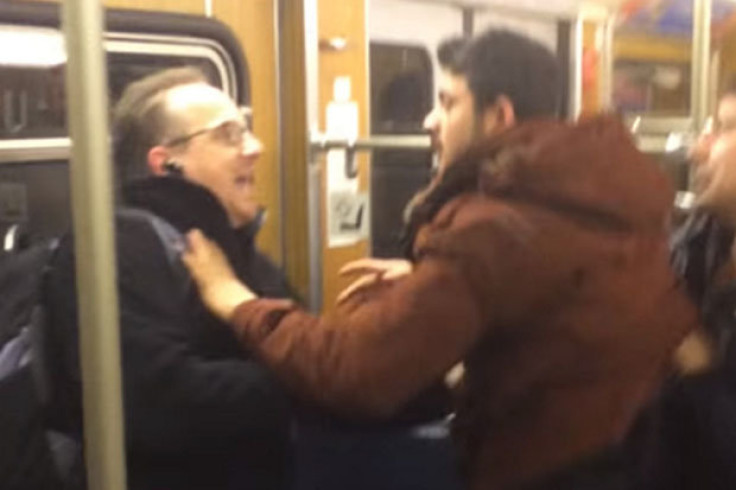 Police in Munich have launched an investigation after a group of alleged migrants were filmed attacking pensioners who stood up for a woman being harassed on a train. The footage appears to show the group of men attacking the pensioners on the train, with one man held by the arms and verbally abused, and the other held by the neck and threatened.
According to Tom Roth, who posted the filmed footage on his Facebook page, the fight broke out after one of the group of alleged migrants placed a hand on a female passenger.
Roth wrote alongside the video that one of the men asked "Why will you not answer me in German?" The woman reportedly replied: "Because you asked me in English." Mr Roth wrote: "I think he had his hand on her back. She turned away and looked in my direction. "As the train continued, the asylum seeker struck the glass window full force. I guess he was angry the woman rejected him. Several men shouted at him to stop."
He writes that when an elderly German man intervened he was mockingly patted on the head by a member of the group. "The gentleman stood up right away," wrote Mr Roth. "The asylum seeker then turned, approached the man and grabbed him by the neck. Everyone immediately became involved, with many trying to get in between the pair. The man's attacker fell back in his four-seater. There were four asylum seekers now involved, staring at us and two other older gentlemen angrily.
"There were about 10-15 people beside and behind me. The situation was brought under control. When the train reached the station I called the police. They said there was nothing they could do." Roth continued: "Those involved were very distressed. An older lady said she doesn't leave her home at night any more. The two gentlemen said that it cannot go on like this. "I felt safer in Germany two or three years ago. I find that terrifying and sad.
"I'm really sorry for the people who need help, but something must happen against the violent and disrespectful people among them. Many asylum seekers have no respect for women, no respect for men – not even the old – let alone our laws and the police," he wrote.
The Munich police department told local media that they were investigating the incident, which they believe took place on 30 January, and are attempting to find out how the situation escalated, and how it ended, as only part of the incident was caught on video.