Eyewitnesses are reporting terrifying scenes following reports of at least two suspected gunman on a shooting rampage in Munich at the German city's largest shopping centre - Olympia-Einkaufszentrum mall that has left at least five people dead. A second shooting is said to have taken place at Stachus metro station in the city centre about five miles away from the mall.
Shoppers were seen running from the mall after hearing gunshots. Staff are still in the shopping complex and have been hiding out in store rooms.
An employee described chaotic scenes as 'many shots were fired'. "Many shots were fired, I can't say how many but it's been a lot. All the people from outside came streaming into the store and I only saw one person on the ground who was so severely injured that he definitely didn't survive.
"We have no further information, we're just staying in the back in the storage rooms. No police have approached us yet."'
An employee at one of the shops, Lynn Stein, told CNN: "I was just going to buy something while my co-worker was still in the shop. People started running. I went outside as well, more people were running outside. I think I heard more shots. Then it sounded like he went to the parking house next to the mall - several shots there.
"I saw somebody lying on the floor, presumably dead and there's a woman over them, crying."
Thamina Stoll, 22, of Durham, North Carolina, who is in Munich on a summer internship, filmed people fleeing the shopping centre during the attacks from her grandmother's apartment.
"When we went down to the street, we ran into another family and they were in shock," she told MailOnline. "They were scared and they told us not to go back to the shopping mall. From the balcony we were able to witness about 50 people running towards our house seeking shelter. Sirens started to arrive and a helicopter appeared."
Metro stations have been evacuated and public transport has been suspended as Munich is in lockdown as police continue to search for three suspects who remain at large. Local residents are reporting a very heavy police presence on the scene.
A man working at a petrol station in Munich told the BBC: "We see just ambulances and it's like firemen and police but all this area is evacuated, all the streets. Now [there] are no cars just on the side of the streets. All of the streets are blocked. I see that the people are scared. Everybody are running around."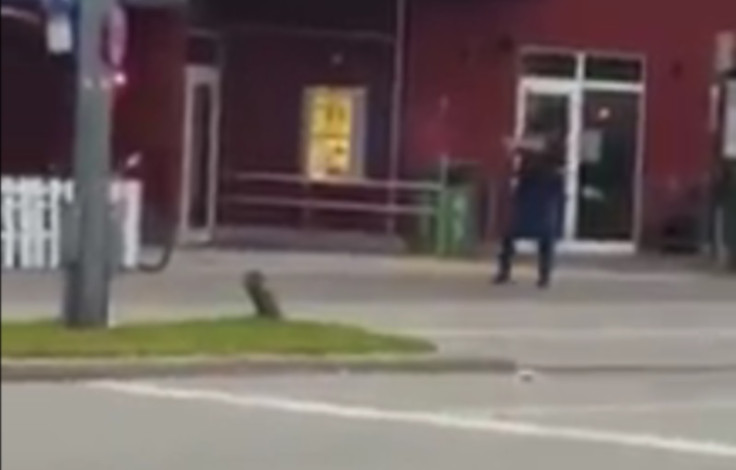 Police reported that over 100 people witnessed the attack. Several videos have emerged on social media of a man believed to be one of the gunman. The suspect is seen approaching a McDonalds eatery, dressed in a black T-shirt and apparently holding a 'long-barrelled weapon.'
A further video has surfaced of a gunman walking across the roof of the carpark, shouting: "I am a German!"
As the incident continues to unfold, Twitter users in Munich have been offering refuge to people affected by the Munich shopping centre attack using the hashtag #OffeneTur - or #OpenDoor - inviting people to seek shelter in their homes if they are unable to get home.
Munich police have also issued a helpline for anyone concerned about missing relatives. For enquiries dial 0800 7766350.