The Musketeers - Episode 1 Review: Friends and Enemies
First episode of new BBC swashbuckling escapade does more than enough to win Sunday night TV battle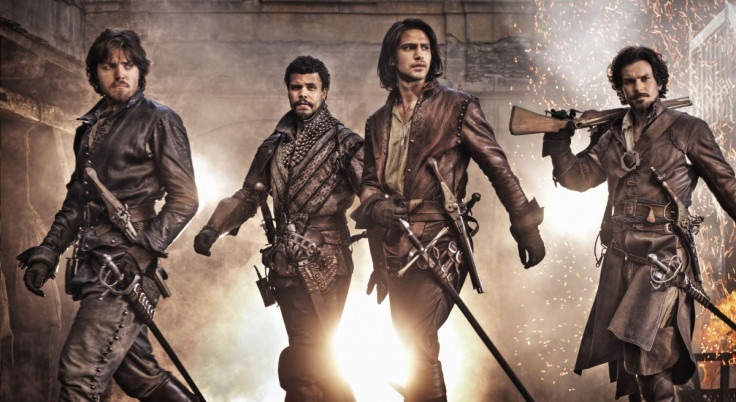 Modern, revisionist takes on classic tales have done well for the BBC in recent years. Merlin took a stab at Arthurian legend, Atlantis similarly with geek mythology and then of course there's Sherlock, the most successful example of all.
Whether the Beeb's new Sunday night family adventure The Musketeers will match the success of Benedict Cumberbatch and Martin Freeman's stylised sleuthing remains to be seen, but on the evidence of last night's first episode it is certainly heading in the right direction.
Swashes were reliably buckled as our leather-clad, face-fuzz adorned heroes punctuated their exploits with sex, drink and gambling. Athos (Tom Burke) is the leader, a drinker longing for a lost love, Aramis (Santiago Cabrera) has a weakness for women and Pathos (Howard Charles, an early highlight) is a no-nonsense charmer of questionable gambling/cheating skills.
They're later joined by D'artagan, who after the death of his father at the hands of men passing themselves off as Musketeers – heads to 17<sup>th century Paris to confront the real deal.
The fake Musketeers are in the employ of the conniving Cardinal Richelieu - played with moustache-twirling delight by Peter Capaldi – who is dead-set on bringing down King Louis XIII's finest men.
As a starting point the plot does well to highlight both Richelieu's villainous ways and show us the heroic merits of the real Musketeers in comparison to the fake marauders. There are some small issues (surely if the real Athos had committed those crimes he wouldn't have revealed his name to anyone) but as with the whole episode – any small problems are made up for by great performances and a natural chemistry.
The Musketeers is a show that doesn't take itself too seriously but which is perfectly capable in its more dramatic moments. The chemistry of its stars is obvious from the get-go, establishing a believable and likeable dynamic between characters essentially playing a unit of maverick cops.
In setting itself up as a police procedural set in 1630's Paris, Hodges has found a great way of making this updated take on Alexander Dumas' tale appeal to modern audiences. With a central villain in place it also has a narrative strand running through it that will serve the bigger episodes well.
Slighter issues are remedied, but one problem that could hamstring the show in the coming weeks is its handling of female characters.
Each of this episode's bigger female figures is used as one point or another as a sex object – Emily Beecham's Adele finds herself torn between an affair with Aramis and her husband Richelieu, Maimie McCoy's Milady de Winter uses her sexuality to her advantage when framing D'artagan for murder and Tamla Kari's Constance uses her figure-hugging corset to rally the attention of a guard in need of distracting.
Of the three only the latter two survive the episode, with Adele falling victim to Richelieu's mean streak, and each has plenty of room to grow. Constance will eventually be won over by the Musketeer's cavalier ways and Milady has excellent potential as its revealed she is both in cahoots with Richelieu and the former lover who Athos seems so hung up on.
Its first episode was more about making an impact than delving into the psyches of these characters, but there is enough there to be explored beneath the simple bullet-point weaknesses in each of our heroes.
With an undoubtedly big budget and excellent production values, The Musketeers as a show is every bit as confident as its heroes. Next week we will see how Hodges can carry us through a procedural, baddie-of-the-week episode, a big test for the show's lasting ability.
4
© Copyright IBTimes 2023. All rights reserved.