Muslim drag queen Asif Quraishi shot to fame Monday night when he appeared in a TV show looking at the gay Asian scene in Britain. Less than 24 hours after the show aired he says his Twitter followers have trebled and he has over 1,000 private messages on Facebook.
Not all of them were nice, Quraishi told IBTimes UK Tuesday, but the backlash of anger he had been expecting did not materialise. In the end it was the thousands of messages from young gay Muslims inspired by his appearance in the Channel 4 show that left the biggest impression.
"Many of them were watching it with their families or in their bedrooms on their own and not knowing that there is a community out there that exists like ours and reaching out about guidance about where to go and how to tell their parents," he said.
"I'm in a really positive place right now and I don't really choose to listen to the backlash that I know is out there."
Quraishi, 33, has performed as Asifa Lahore in clubs across the UK since 2011 and been featured several times in the media, but Muslim Drag Queens, narrated by Sir Ian McKellan and broadcast to millions of British TV viewers, sent the hashtag #MuslimDragQueens and his own Twitter profile viral.
As a gay Muslim man who faced serious backlash within his own family when he came out at the age of 23, Quraishi is pleased that the show has highlighted the challenges faced by young Muslim homosexuals and hopes that it will prompt the government to help make their lives easier.
This could include encouraging local Muslim leaders to discuss the issues of discrimination against homosexuals in Britain as well as funnelling more money to charities that perform outreach with young gay Asians in the country. He has called discrimination against homosexual Muslims in Britain a form of terrorism, and called for Prime Minister David Cameron to take action.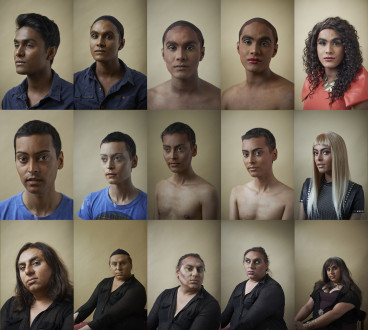 Quraishi, a devout Muslim, has not been back to his local mosque since the show aired, but says that although many who worship there know about his lifestyle, it is not widely discussed. This is a problem endemic in more conservative Muslim circles in the UK, he said.
"In the mosques that I regularly go to people know who I am, they know about my life. It is not like I am ostracised from the mosque or anything like that, people let me go, let me pray. My life isn't discussed. But that is part of the issue," he said.
"Because if something isn't discussed it is almost swept underneath the carpet. It can be difficult because you are in a way censoring yourself. [...] There are certain faces that you [have to] alienate because of fear of personal abuse or a backlash."
That backlash is a risk now more than ever, with Quraishi overnight morphing from a popular figure on the LGBT scene in London to a nation-wide and even globally-recognised figure.
"I am always looking over my shoulder [...] I've had certain tweets and stuff on social media so you're always on edge. It is something I do worry about," he said.
Asifa Lahore regularly dons a burqa and niqab (the full length robe and face veil worn by women from conservative Islamic backgrounds) before stripping off – an act that has unsurprisingly courted controversy – but Quraishi is unapologetic about it.
"I've grown up around women who have [...] worn whatever they want to wear. My version of drag is from realism, which [...] is a homage to being a woman. When I was younger I would go to drag shows and I would see drag queens wearing nuns' outfits and making parodies of that and nobody batted an eyelid," he said.
"Yet when I stepped on the stage [in a burqa] people said: 'You are being controversial'. I didn't set out to be controversial at all, I was just expressing myself. I realised quickly how political the world has become. It was the world that made me political. I just wanted to perform."
As for his faith, Quraishi is not put off by the passages in the Qu'ran that are said to explicitly forbid homosexuality, pointing out that the passages often used to do so – such as the story of Sodom and Gomorrah - are often open to interpretation. Besides, he considers himself a good Muslim.
"At the end of the day all Muslims believe that we are judged at the end of our life and I believe that. I would like to face Allah on the day of judgement and say I was authentic, I was honest with myself and those around me. It is him that will judge us, not those around us," he said.
As groups such as Islamic State throw homosexuals to their death from buildings in Raqqa and Mosul in Syria and Iraq, Quraishi would argue that it is rich to accuse him of defying scripture: "Where in the Quran does it say to do that?" he said.