Former Bosnian Serb military commander Ratko Mladić has been found guilty of crimes against humanity and genocide during the 1992-95 Bosnian war. The 74-year-old man was the head of the Bosnian Serb militia during the bloody civil war.
After a trial that lasted nearly five years, Mladić was found guilty of, among other crimes, having ordered the 1995 massacre at Srebrenica, in Bosnia and Herzegovina.
At least 8,000 Muslim men and boys were killed, mostly by execution, in what has been labelled as the biggest mass killing to occur in Europe since the Second World War.
In spite of the war crimes allegations, the general is still regarded as a hero in the Serb sector of Bosnia and his home village, where people have portraits of him hung in their houses.
Prior to the verdict on 22 November, a man identified as Mladic's cousin said: "He did not kill people. During the war he gathered our Muslim neighbours from a nearby village and warned them in time to leave. I still often go to that village, work with Muslims and don't have any problems."
IBTimes UK has compiled a list of some of his most memorable quotes.
"It would have been better if we had fought in Italy and Austria which are really at war against us, instead of allowing them to use our unfortunate Slovenians, Croats and Moslems as bait and cannon fodder."
1993 interview with Vreme News Digest Agency
"When I guarantee something to you, it is the same as when the Almighty does."
Quote from an international peace conference in 1993 in Geneva, when then Bosnian president Alija Izetbegovic expressed doubts about Serbs keeping their promises, according to journalist Robert Block

"I didn't go to Vietnam to fight, nor to Okinawa, but am defending my people.
Quote contained in 1993 article by Vreme News Digest Agency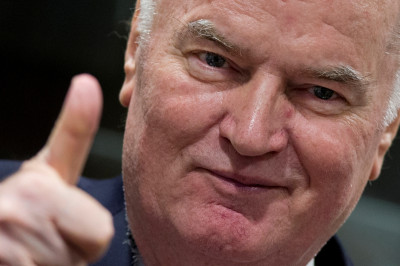 "We are fully aware that war is not the only way to defend our values. But if those values are fundamentally endangered, as is the case today, then war is the only way to defend them. Everything that hinders us in our effort to defend ourselves is an injustice. We did not want this war, it was thrust upon us, like all others. Defending one's people is a holy duty."
1995 interview with Robert Block
"I think it is time for all peace-loving people of this world to start pondering where all this leads. I think it's high time that the weapons in this part of the world, and all over the world, were silenced.
"If humankind were to follow my advice and if it were in my power, I wouldn't allow the word 'war' to be uttered in any language, I would ban all weapons, even in the form of toys."
1995 interview with Robert Block
"I am General Ratko Mladic. The whole world knows who I am."
Pre-trial hearing in 2011, according to Reuters
"I do not recognise this Hague Court, it is a Nato creation, a Satanic court, not a court of justice."
Mladic was called to give evidence during the Radovan Karadic trial at The Hague in 2014, according to The Telegraph
"I am not afraid of anybody but God. Your subpoenas and your platitudes and your false indictments – I do not care one bit about them."
Mladic was called to give evidence during the Radovan Karadic trial at The Hague in 2014, according to The Telegraph
"I am a very old man ... and I am not important it matters what kind of legacy I will leave behind, among my people."
Final hearing on 22 November 2017, according to Reuters