Muslims are set to become the second largest religious group in the United States by 2040, according to projections by Pew Research Centre.
America's Muslim population is expected to hit 8.1m by 2050 - more than double the current figure - due to migration and high fertility rates. Judaism is currently America's second largest religion but this is likely to change in the coming decades, say researchers.
Although the US Census Bureau does not collect data on Americans' religious beliefs, estimates by Pew and other outside agencies suggest that there are 3.45 million Muslims living in America today, a significant increase from the 2.35 million Muslims over a decade ago.
Migration from Pakistan, India and Iran have typically driven Islamic migration to the United States but recent years have seen a surge in arrivals from wartorn countries such as Syria and Yemen. It is thought 100,000 Muslims arrive in the US every year.
Fertility rates are high among American Muslims, who tend to be significantly younger than their counterparts; 35% of Muslims are between the age of 18 and 29 compared with 21% of the general US public. Around one-fifth of Americans born into Islam the say they are no longer affiliated with the faith.
According to Pew, American Muslims are unevenly distributed with New Jersey and Washington DC having the largest communities. In New Jersey 3% of residents identify as Muslim - three times higher than most other states.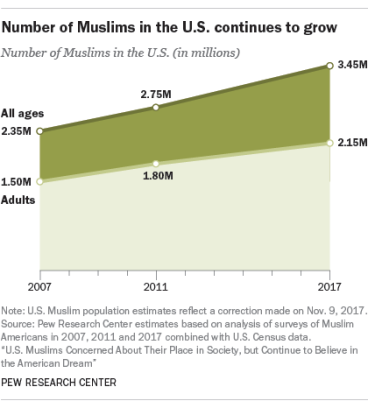 The growing prevalence of Muslims in everyday life means that Americans must address their relationship with followers, according to Ihsan Bagby, professor of Islamic Studies at Kentucky University.
"A large number of Americans have come to accept that, but others have not," he told NBC News.
"We're in this transition period where Islam is, to a large percentage of Americans, not really considered part of American society.
"The increase in numbers of Muslims will actually give them more opportunity to meet a Muslim. The more Muslims come, the more they spread out throughout American society."