A Ukrainian daredevil brought traffic in Kiev to a standstill with a series of heart-stopping stunts 150 metres up the air.
The real-life Spider-man, known as Mustand Wanted, climbed a crane to perform a selection of stunts, including monkey bar acrobatics, running along the cross-beam and hanging from a joist one-handed
On his website, Mustang said his "hobby" has drawn a great deal of attention and appeals to people who want to see an aerial view of cities but do not have his head for heights or climbing abilities.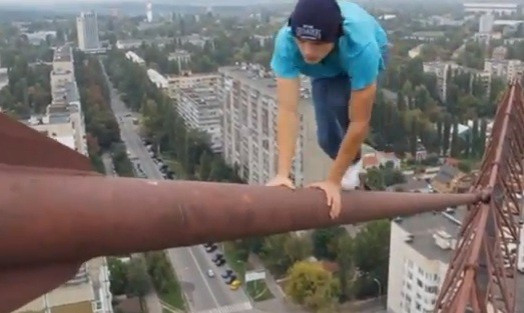 He has amassed almost 2,000 fans on his official Facebook page and his latest video, Mustang Wanted on 150 Metre Crane, Part 2, has been viewed more than 22,000 times on YouTube.
Some viewers are not positive about the stunts, however.
One said: "If this is real it is stupid. Just because of entertainment he could kill himself. Maybe his adrenalin gland is damaged because I see no fear in him."
Another added: "I don't want to sound like a moralist, but this has nothing to do with bravery. It is pure disdain for life. I am not even sure if the word insane applies to this. This guy lacks any sense of self preservation. Speaking as a parent, I hope my son would kill me first before doing this."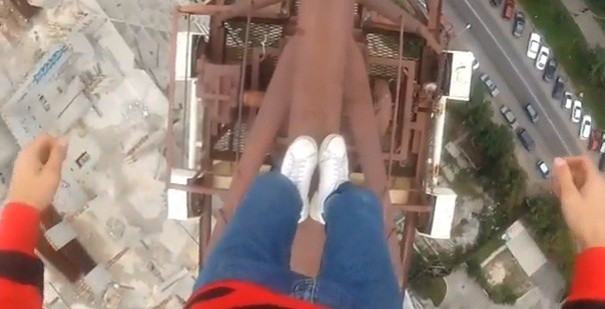 There were plenty of respondents who enjoyed Mustang's work, however. One said: "I got sweaty palms and feet from just watching it."
Another said: "You're awesome and insane and you've got some skills."
One of his more impressed fans wrote: "Mate, you have the biggest balls on YouTube. I haven't seen anything this daring or crazy in my life. Respect!"
In 2012, Mustang performed one of his most daring stunts, hanging 260 metres above ground from a tower.
(Mustang Wanted/YouTube)