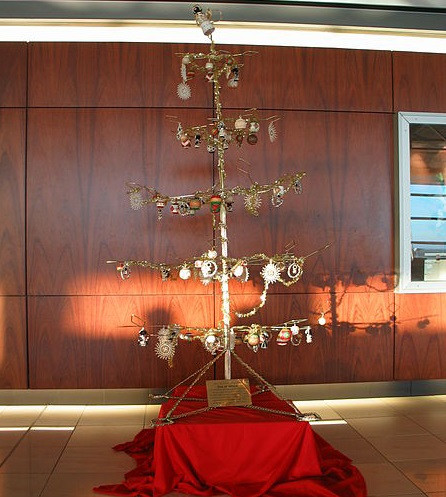 Christmas just doesn't feel very Christmasy in South Africa.
On the one hand, it's far too hot at this time of year to be decking halls with holly, chasing around in one-horse open sleighs and cavorting under the mistletoe with Santa Claus - or anyone else for that matter.
These are all distinctly northern European traditions and the imagery is a bit lost over here, not least because it's summer and freezing ice and snow are such rare occurrences anyway – although Johannesburg did apparently get a few white flurries in August 2012 for the first time in generations.
On the other hand, and maybe partly as a result of the above, South Africans simply don't make such a big, commercialised thing of Yuletide as we do the UK.
As a result, there were no streets, and certainly no houses, to be seen festively bedecked with Christmas lights, flashing or otherwise. There was no Christmas music blaring out from glittery decoration-swathed shops.
And, most noticeably of all, there were no carefully packaged up Christmas gifts and treats to prompt you with helpful ideas when inspiration runs low.
In fact, the only retail concession to the festive season that I could see was a pop-up decoration and card shop in the huge Jozi shopping mecca that is Sandton Mall.
Woolworths, South Africa's equivalent of Marks & Spencer, also didn't disappoint, offering a few nicely presented boxes of Crimbo biscuits, chocolates and so-called 'wreath' polo-mint-shaped fruit cakes, both with and without icing.
Oh yes, and there were a couple of Thursday evenings of late night shopping in our new neighbourhood, Parkhurst, as well as the odd Christmas market, including one in the nearby suburb of Parktown North.
But it was all very low-key and you had to look for it really. It certainly wasn't the in-your-face extravaganza that we're used to at home. Which was quite refreshing in a way but, by the same token, didn't exactly get you in the mood.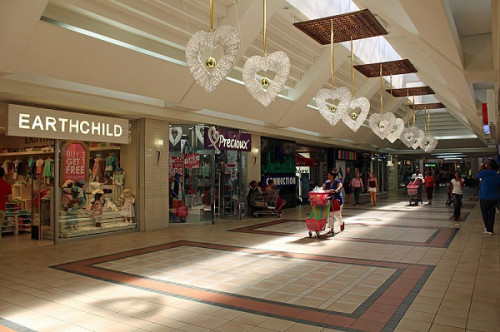 Having said that, the main mood that most South Africans seemed to be in before Christmas was a holiday one. Just as in Europe where the entire continent more or less shuts down for the August summer break, the same thing happens in this part of the southern hemisphere between mid-December and mid-January.
It's bizarre. One minute Johannesburg was a bustling urban metropolis and the next it was transformed into a virtual ghost town as people streamed in their droves to the coastlines of the Cape and Durban.
There they spend three of their four precious weeks holiday entitlement packed in like sardines with all of the other holiday-makers, relaxing, braaing and having decidedly unseasonal (for a Brit anyway) sunshine-y fun.
And so, even before I flew back to the UK four days or so before Noel to spend the festive period with my family, Parkhurst's Fourth Avenue, with all of its trendy bars and restaurants and chic boutique-y shops, had more or less packed up.
Among the few survivors were the grungy and always packed Jolly Roger pub and its sister bar over the road, the Jolly Cool; the excellent Vovo Telo Italian bakery and related restaurant, and ultra new-kid-on-the-block, Craft, which has just opened and sells craft beer and food, so far to mixed reviews.
The staff at most of the others had either shut their doors and slipped quietly off on vacation or started furiously refurbishing in anticipation of a bounteous year ahead, no doubt.
Plus ca change
And it's no different now that I'm back. Which means that the relatively few punters around are currently fighting for what meagre spoils, in table terms, are currently available to them.
But on chatting with my twin brother and his family, who were visiting the UK for Christmas for the first time in 13 years, things are not so dissimilar back home in Oz. In fact, the two cultures – South African and Australian, that is - seem remarkably alike in many ways.
There's the obsession with sport, the beer and braai (or barbie) lifestyle, and the love of the great outdoors. Which leads perhaps to a feeling of masculine down-to-earthiness that is less evident in a more feminine-seeming country like the UK, which prides itself on its creative prowess and vaunts its love of art and design.
While Britain has topped world league tables for years in terms of fashion and coiffuring, media broadcasting and music, advertising and retail choice, for those not so used to our ways, it's easy to see how we, as a nation, might appear highly commercialised, overly interested in image, and, dare I say it, a tad shallow.
But according to Big Bruv (he's 15 minutes older than I am, the UK has changed in other ways since he last graced its shores over a decade ago.
The Northeast in particular looks much cleaner and brighter and more spruced up. But our local pitmatic dialect, indigenous to the counties of Northumberland and Durham, is noticeably dying as the regional demographic continues to change and the influence of mainstream media continues to grow.
Then there's the curious feeling of being back to the 1980s – the high levels of unemployment, especially among the young; Tory rhetoric about the need to slash benefits and cut the size of the welfare state; and concerns over house prices and how to make ends meet as a result of the on-going pay squeeze.
But as notable French journalist and novelist Alphonse Karr once quite rightly said of such matters: "Plus ca change."