It's funny: the natural beauty of UKhahlamba/Drakensberg Park in Kwa-Zulu Natal may have been outstanding enough to make it a Unesco World Heritage site, but it's not a place that many South Africans, of our acquaintance anyway, appear to have ventured into much.
But while it's a shame in one way, it's possibly just as well in another because the fact that it's so unspoiled is one of the region's big pluses.
Indeed as Unesco said rather poetically when it added the location to its World Heritage List at the end of 2000, the place is stunning, with its "soaring basaltic buttresses, incisive dramatic cutbacks and golden sandstone ramparts".
But the 243,000 hectare Park is also important because it plays host to a wide diversity of habitats, which are, in turn, home to lots of unique and endangered species, especially of the bird and plant variety.
For example, some 299 different varieties of our feathered friends live there, which amounts to more than a third of all of the non-marine avian species found across southern Africa. Ten of them are also considered important in world conservation terms, including the endangered Cape parrot and white-winged flufftail.
But its ecological importance notwithstanding, the Giant's Castle area in the Central Drakensberg where we enjoyed a week's holiday last week reminded both my Beloved and I of a more dramatic version of the Scottish highlands, with maybe bits of the Lake District thrown in for good measure.
Whatever its likenesses though, the area is truly breathtaking – as well as being a hiker's paradise with its carefully graded trails, leading off past rivers, lush grasslands and rocky outcrops up into the mountains.
"Even more beautiful than the Cape," my Beloved proclaimed, which is indeed something coming from him. Personally though, I'd just say they were different, with the Drakensberg definitely being wilder, less touristy and more remote.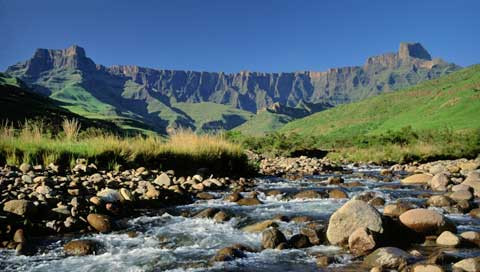 Conservation versus economic development
But as to how long that will last following controversial proposals for a new R500 million cable car route in the nearby Busingatha valley section of the Drakensberg's Mnweni area, which will possibly stretch as far as the nearby state of Lesotho, remains to be seen.
Although not actually in the UKhahlamba/Drakensberg World Heritage Park itself, there are concerns that its status could be jeopardised by the development. Members of the local AmaZizi tribe are also said to be against the move due to fears of having their traditional way of life disrupted.
On the other side of the tricky conservation versus economic development coin though is the Kwa-Zulu Natal Department of Economic Development and Tourism. It is keen to fulfill its remit, boost visitor numbers and bring much-needed employment to the area and, therefore, sees the cable car as the way to go. As to who is in the right, only time will tell.
Anyway, on a somewhat happier note, it seems that another reason the Park won World Heritage status was its huge cultural significance.
This is because it just happens to have the largest and most concentrated amount of rock art in sub-Saharan Africa, created by shamans of the region's indigenous San people, who are known elsewhere as Bushmen.
It turns out that South Africa's first people, who lived in the area as hunter-gatherers for more than four millennia, created more than 20,000 individual paintings of everything from sacred eland (large antelope) and human figures to therianthropes (people in the process of metamorphosing into animals) during trance dances in 500 or so local sandstone caves and rocky overhangs.
The images may be difficult to date - and preserve - due to the materials used to produce them, which ranged from blood and gall to egg white, clay and ochre, providing the painters with a palette of red, orange, yellow, black and white.
But most are believed to be between 100 and 3,000 years old, with the creative golden age apparently having reached its zenith somewhere around 200 to 400 years ago.
Rock art
In fact, so special are the paintings that Unesco described them as being "outstanding in quality and diversity of subject and in their depiction of animals and human beings...which throws much light on [the San] way of life and their beliefs".
The sad thing is that it is no longer possible to ask the people themselves about the significance of their art. Following the migration of Bantu-speaking tribes to the region in the thirteenth century and European colonisation from the mid-1800s onwards, there simply wasn't enough room for everybody and so San communities living in the traditional way were wiped out.
But luckily, it appears that their genes and cultural identity survived. Over the last 20 years or so, it has come to light that a number of people living in the wider Drakensberg region, while of obvious mixed genetic descent, unofficially regard themselves as San, even though most live as Zulu, Xhosa or Sotho people for official purposes.
And, remarkably, it seems that they have managed to hold onto at least some of their traditional knowledge about medicinal plants and the spirit world – even if they are not as politically and socially organised as their relatives in the Northern Cape.
Anyway, the most significant rock art in the Giant's Castle area where we stayed is at a place imaginatively called Main Caves.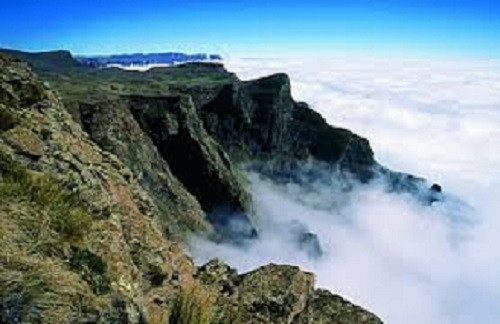 This admittedly rather touristy spot is a relatively easy 40 minute walk from the main camp, with its 40-plus thatched self-catering chalets, shop and restaurant, all at around 1,750 metres above sea level – which, bizarrely, is about the same altitude as Johannesburg, sitting as it does on its Highveld plateau.
As to why Giant's Castle is called what it is, meanwhile, that can be attributed to a missionary named Alan Gardiner who felt that that the 3,280 metre giant of a mountain resembled Edinburgh Castle from various angles – not that I could see it myself, I must admit.
Personally, I preferred the Zulu name for the peak: "Bhulihawa". This means "Place of the Shield Thrashers" as, somewhat romantically, it was believed to be the place that thunder was born. But hey - maybe that's just me.
Cath Everett is a resting journalist who has written about business, technology and HR issues for over 20 years. She recently moved from the UK to South Africa with her husband.