South African Adventures: Cape Flats Townships, Table Mountain and Grand Contrasts
Ramshackle townships surrounding Cape Town are thrown into bold relief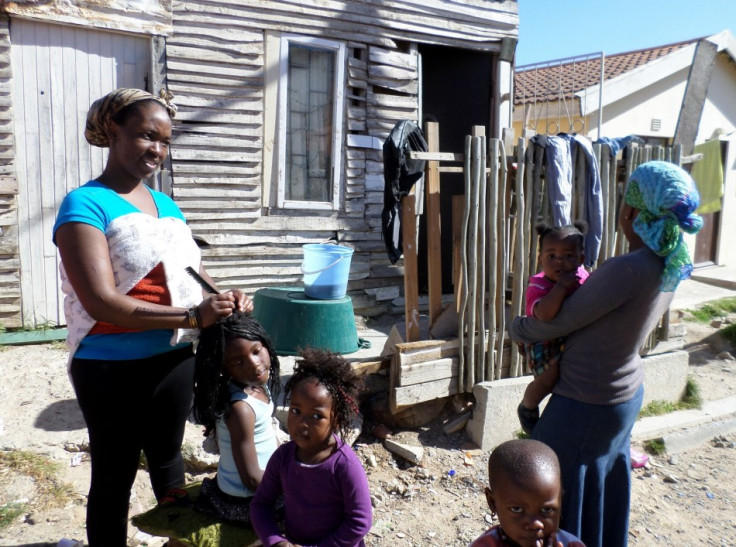 It's amazing how quickly you get used to a place and, therefore, stop noticing things that originally struck you or made an initial impression for whatever reason.
So when my parents arrived from the UK for a couple of weeks holiday, it was fascinating to see the Cape through their eyes and get a fresh perspective on it all.
My dad, for example, made the point that tourist guide books are simply unable to get across the sheer grandeur and scale of the mountains that are not only integral to the Cape Winelands, but also encircle and dominate Cape Town - Table Mountain being the most famous and iconic, of course.
He was also charmed by the courteousness and laid-back amiability of the locals who, even in the Mother City, never seem too busy or rushed to give a friendly smile or take time for a chat.
Quite a change from the UK, where life's stresses and strains mean that all too many people appear to have forgotten how to indulge in those niceties that make being alive just that bit more pleasant.
My mam, on the other hand, was struck by the huge disparities between rich and poor and the desperate levels of poverty in this country.
And it hits you like a hammer as soon as you arrive. Even as you drive from the airport to Stellenbosch, or Cape Town for that matter, you can't fail to notice the vast, ramshackle townships of the Cape Flats lining the road for miles.
The corrugated iron-roofed shacks, some painted in bright, cheery colours and others constructed from barely-holding-together bits of this and that, really do make you wonder how people can survive in those conditions.
Amazing dignity
But they do, nonetheless, and with amazing dignity. As part of one of the excellent hop-on, hop-off City Sightseeing bus tours in Cape Town, for instance, we stopped at Hout Bay for a 40-minute guided tour of the Imizano Yethu township.
I'm never quite sure about the ethics of these things as I'm always torn between a fear of making people into a kind of Victorian peep show spectacle versus providing the community with some form of income from tourism.
But such considerations aside, what did become clear was just how hard the majority of inhabitants were trying to make the most of what little they had.
Despite the poor conditions, which included the provision of only four communal toilets for every 2,000 residents, most people's clothes, including those of the children, were spotless.
The same was also true of the house that we invaded of one very sweet and very pregnant woman, who was cooking chicken's feet and pap, or polenta made from mielie meal (ground maize), for her husband's evening meal when we arrived.
Another thing that we noticed though was the politeness expected of even the smallest children. One couple from Durban bought a plastic bag full of tangerines from a Spaza shop - or small, informal township store that is often run out of someone's home - for the guide to hand out to the kids.
Inevitably the news spread like wildfire and children immediately started materialising out of nowhere. But what the guide insisted was that, rather than grab the spoils with one hand, each child had to hold out both of them together in a cup shape so that they could receive rather than take.
It's a gesture that you'll notice among people begging or taking money when selling goods on the street in South Africa and, now that I know the symbolism, it strikes me as extremely courteous.
The Bo-Kaap
Another guided tour worth doing, meanwhile, was the one we took around the Bo-Kaap. Bo-Kaap, which translates from Afrikaans into 'Upper Cape', is the former 'Cape Malay' slave area. Located on the side of Signal Hill, within walking distance of Cape Town's Parliament buildings, it affords stupendous views over the city.
Ironically though, despite its humble origins, the small, brightly-coloured, nineteenth century Dutch and Georgian terraced houses of this predominantly Muslim community now go for as much as R3 million (£200,000) a pop - an awful lot of money by South African standards.
But the high prices are at least partially due to the fact that the neighbourhood is one of Cape Town's oldest and most unique.
Unlike the infamous inner city District Six, with which it had much in common but which was flattened under the apartheid regime in the 1960s and 1970s after being designated a 'White Group Area', the Bo-Kaap managed to remain intact.
Because it was considered far enough out of town to retain a 'Coloured' designation, its residents were lucky enough to escape forced removal to the Cape Flats.
Occupants of District Six, a poverty-stricken but lively and culturally-rich community of some 60,000 mainly coloured people, were not spared the same fate, however, and it is said that the soul was ripped out of Cape Town when they went.
In fact, after a huge international and domestic outcry over the demolition, which took 15 years to complete, redevelopment never actually took place, beyond the building of the ugly Cape Technikon college, that is - or the Cape Peninsula University of Technology, as it's now known.
As a result, the only thing that remains of this formerly vibrant cultural heartland is a few churches, a couple of mosques and a lot of grassland that is to be kept as it is indefinitely and significantly, lest we do stop noticing and, therefore, start to forget.
READ:
South African Adventure: Road Safety Statistics Close to Record Murder Rate [BLOG]
South African Adventure: Able Seamen and Endangered Penguins
South African Adventure: Moving to Johannesburg Poses a Daunting Challenge
South African Adventures: Floral Tributes Herald Rebirth of Spring [BLOG]
South African Adventure: That's Entertainment Cape Town-Style [BLOG]
South African Adventure: Cheese, Wine and Classic Vinyl Create the Perfect Market Combo
South African Adventure: NHS Model to Fix Healthcare Shambles [BLOG]
South African Adventure: Winter Wonderland in Hermanus
South African Adventure: Johannesburg, City of Gold without the Lustre [BLOG]
My South African Adventure: Paarl, The Town Where Nelson Mandela Walked to Freedom when Apartheid Died [BLOG]
My South African Adventure: The Legacy of the San Hunter-Gatherers [BLOG]
My South African Adventure: Lynedoch Eco-village Rolls Back Pain of Apartheid [BLOG]
My South African Adventure: How Living Abroad Brings out Green, Green Grass of Home [BLOG]
Cath Everett is a resting journalist who has written about business, technology and HR issues for over 20 years. She recently moved from the UK to South Africa with her husband

© Copyright IBTimes 2023. All rights reserved.