Myanmar: 1,000 Muslim Rohingya Children 'Severely Malnourished' in Rakhine State Camps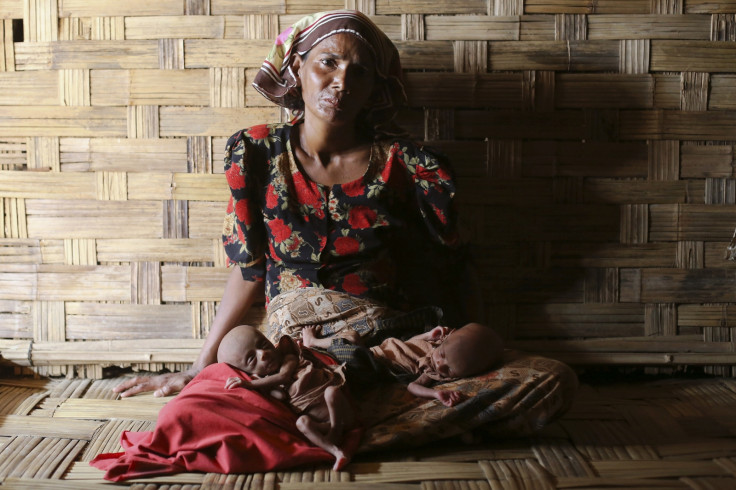 Hundreds of Muslim Rohingya children are suffering severe malnutrition in overcrowded camps in Myanmar's Rakhine state due to limited access to food, clean water, education and health care, according to reports.
The child malnutrition rate, which is already high in Myanmar, has surged among the more than 140,000 Rohingya people who were confined in camps since extremist Buddhist mobs hunted them and forced them away from their homes in 2012, leaving 280 people dead.
The UN children's agency said the number of severe malnutrition cases has more than doubled between March and June to reach nearly 1,000 cases. Rakhine State, which is home to the vast majority of Myanmar's 1.3 million Rohingya Muslims, has an acute malnutrition rate hitting 23%.
Malnutrition symptoms such as a bloated stomach and hair stained with patches of red or blonde can be observed in children cramming the camps in Rakhine state, according to AP. They are also highly exposed to deadly diseases as they walk barefoot on muddy and dirty pathways.
Yanghee Lee, the UN special rapporteur on human rights in Myanmar, said that in the camps "the situation is deplorable". She added that camp residents did not have adequate access to basic services and had heard of "disturbing reports" of people dying in the camps due to lack of emergency medical care.
The situation has been exacerbated because aid groups that have been operating in the Rakhine state have faced threats and intimidation. In March, Doctors without Borders was expelled from the state, in part because its staff included Rohingya Muslims.
Other humanitarian groups were temporarily evacuated after Buddhist extremists stormed their residence in the state capital Sittwe.
Violence against Myanmar's Muslims has intensified over the past two years, incited by extremist monks and the virulent anti-Muslim '969' campaign, which espouses hate and urges Buddhists to boycott Muslim businesses.
Tens of thousands of Rohingya remain displaced in Rakhine state after clashes between Rakhine Buddhists and Muslims in 2012 left about 200 people dead.
In January, Burmese police set fire to at least 70 Rohingya homes in the village of Du Char Yar Tan, where at least 48 Muslims were said to have been killed by a Buddhist mob.
© Copyright IBTimes 2023. All rights reserved.