Myanmar election: President 'will have no authority' says Aung San Suu Kyi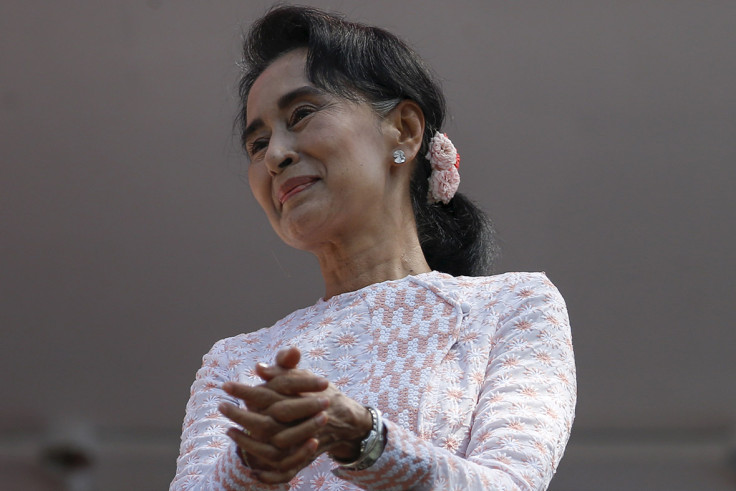 Myanmar opposition leader and pro-democracy champion Aung San Suu Kyi has firmly stated that she will make all the decisions in the country and the appointed president will have "no authority" following a predicted landslide victory in the historic elections.
Her National League for Democracy (NLD) is set to win well over the 75% needed to form the first democratically elected government since the 1960s and put an end to military-backed rule in Myanmar. Under the constitution drafted by the former junta, the Nobel laureate is barred from the presidency post because of an amendment that outlaws those with foreign-born offspring. Both Suu Kyi's two sons were born in Britain.
However, Suu Kyi told Channel News Asia that if NLD wins, the president will be appointed "just to meet requirements of constitution". "He will have to understand this perfectly well that he will have no authority, that he will act in accordance with the decisions of the party," she said, adding that it is "logical" that the leader of the winning party becomes leader of the government. "If this constitution doesn't allow it, then we will have to make arrangements so that we can proceed along usual democratic lines," she said.
Before Burmese people went to the polls, Suu Kyi said that she will be "above the president" in case of NLD victory.
In another interview with the BBC, the opposition figurehead said she would be "making all the decisions as the leader of the winning party".
Asked if she planned to be president in all but name, she said "It's a name only," and after laughing added: "A rose by any other name."
Suu Kyi also reassured supporters that an NLD-led government would not seek revenge towards the military officials who had put her under house arrest and engaged in human rights abuses in the country.
"We are not going in for vengeance. We are not going in for a series of Nuremberg trials or anything like that. But people must change their ways. It doesn't mean we will simply let people get away with what they have been doing for the last 50 years," she said.
NLD spokesman U Win Htein predicted on Tuesday 10 November that the party would win more than 250 than 330 seats not occupied by the military. Under the junta-crafted constitution, 25% of the seats are reserved for the armed forces.
The election commission said the NLD had won 78 of the 88 seats declared so far for the 440-strong lower house. The military-backed ruling USDP party won only two seats.
© Copyright IBTimes 2023. All rights reserved.