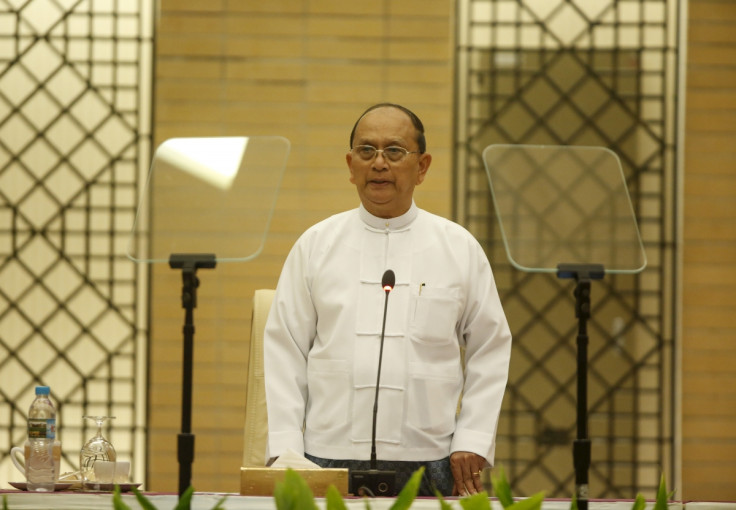 The Myanmar government has inked a limited ceasefire agreement with eight rebels groups even as other powerful outfits decided against participating in the deal. Representatives from the UN, EU, India, China, and Japan are in Myanmar's administrative capital Naypyidaw, to witness the accord.
Billed as the National Ceasefire Agreement, it was the result of two-year-long efforts by both the government and other groups in ending the decades-long civil conflict in the country. However, seven groups of the 15 organisations involved in the negotiations backed out over mistrust. Some of the non-participating groups are vital for the Southeast Asian nation, which is carefully moving from military dictatorship to democracy.
"The National Ceasefire Agreement is a historic gift from us to the generations of the future. Even though the agreement is not nationwide yet, we will try harder to gain the agreement with other groups," said President Thein Sein, a former general, at the signing ceremony. The truncated list of groups partaking in the ceasefire is a blow to the president, who hoped to finish his five-year term on a high note.
Most of the groups who have signed the agreement - Karen National Union, Democratic Benevolent Karen Army, Karen Peace Council, Arakan Liberation Party, All-Burma Students' Democratic Front, Palaung National Liberation Organisation, and Chin National Front – hail from the Karen region bordering Thailand. The region is known for notorious drug-trafficking-backed armed insurgents.
United Wa State Army - the largest armed ethnic group – and Kachin Independence Organisation's armed wing, Kachin Independence Army are among the groups which did not sign the deal. The government has also removed the eight groups, who took part in the ceasefire agreement, from the list of blacklisted organisations. The country's well-known opposition leader Aung San Suu Kyi, a Nobel peace laureate, neither attended the signing ceremony in Naypyidaw nor endorsed the process.
Despite the setback over the absentees, the state-run Global New Light of Myanmar hailed the agreement saying it would pave the way for a "fully-fledged peace process that will end more than 60 years of civil conflict". The talks crumbled earlier in October when many rebel organisations wanted to include insurgent groups, who are fiercely fighting the army, in the ceasefire agreement.
The government's chief negotiator, Aung Min earlier wrote: "The NCA is the first small step towards bringing our fractured society of many different ethnicities and religions into a dialogue to shape the future of our country on equal terms." The deal has also come just weeks ahead of the proposed general elections in November, the first credible democratic process in decades.
The government of Myanmar, formerly Burma, has been engaged in conflict with multiple ethnic groups since the country got independence from Britain in 1948. Nearly 40% of the population belong to ethnic minority groups and many have suffered discrimination and persecution under the country's harsh military rule for half a century.