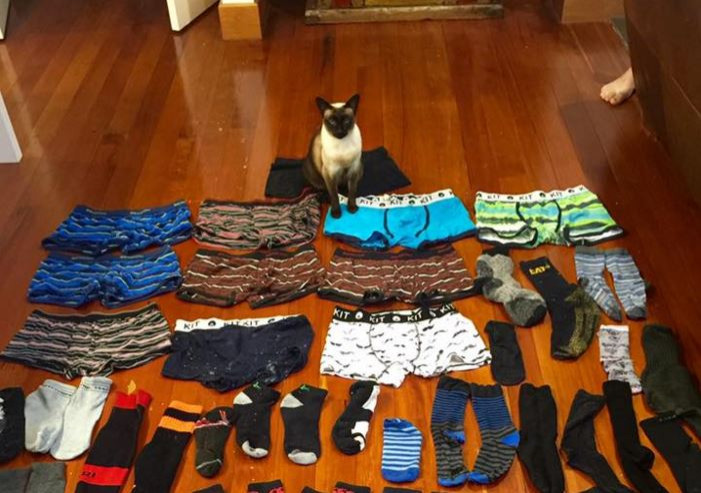 A mysterious cat burglar with a penchant for men's underwear has been pilfering pants and socks in the city of Hamilton, New Zealand. Brigit the six-year-old Tonkinese has brought home 11 pairs of underpants and more than 50 socks in the last two months.
"Every morning we wake up to more," her owner Sarah Nathan said in a Facebook post. "I've put notes in every letter box in the street. Someone must be missing this stuff."
Nathan, who suspects the underwear belongs to a neighbour or neighbours, told the New Zealand Herald that the light-fingered feline had a history of thieving but she had only been collecting menswear for about two of the six months that she had lived at her current property.
"It's all men's," she said. "It's really, really weird. She's got really specific taste."
She added: "In our last house she'd bring home a bit of everything – she'd bring home men's undies, women's undies, togs, she even brought home a hockey shin pad and a jumper." But now Brigit has "decided that menswear is her thing" and after a night of thieving she places her ill-gotten gains at the foot of Nathan's bed or by the cat flap.
The meticulous moggy also likes to have both socks of a pair.
"One will be at the front door and one will be at the back door – so she's obviously gone back to get the matching sock," Nathan said, adding: "They feel as if they've come off the washing line – they've got that crispy feeling."
Nathan, who is moving to a two-acre property in the countryside soon, so she's hoping Brigit will find an alternative to underwear as her prey. But before they go, she is hoping to reunite the underwear with its rightful owners.
"I feel so bad about it – someone is spending a fortune on underwear," she said.