Update: As of 14 October, Yahoo says it has restored automatic forwarding to its Mail service following maintenance work.
Original story: Yahoo users currently have good reasons for wanting to leave its email service, with reports that the company allowed America's intelligence services to spy on users' messages coming fresh off the heels of a colossal breach that saw the accounts of at least 500 million customers stolen. Yet Yahoo appears to be holding on tight to those attempting to jump ship, and is now preventing customers from forwarding e-mail to new addresses.
Yahoo is reported to have disabled the automatic forwarding feature from its mail client at the beginning of October, in what could be construed as an attempt to stem the tide of Yahoo customers moving to rival services. The move comes as Yahoo attempts to close a $4.8bn (£3.9bn, €4.3bn) acquisition deal with US mobile operator Verizon.
Yahoo claims it has temporarily disabled the feature for maintenance work. A spokesperson told IBTimes UK: "We're working to get auto-forward back up and running as soon as possible because we know how useful it can be to our users. The feature was temporary disabled as part of previously planned maintenance to improve its functionality between a user's various accounts.
"Users can expect an update to the auto-forward functionality soon. In the meantime, we continue to support multiple account management."
Although this doesn't stop customers from leaving the service, it does make things considerably trickier. Automatic email forwarding ensures that users don't miss messages as they switch from one service to the other, and has been a basic concept of email for more than a decade.
Despite Yahoo's official position, some have voiced suspicions that the company is attempting to retain customers to keep it looking attractive for Verizon, who has already asked for $1bn to be lopped off the asking price.
Speaking to IBTimes UK, Mike Patterson, founder and CEO of security analytics firm Plixer, said: "Yahoo could be trying to stop the bleeding of lost customers by disabling the automatic forwarding feature to their new email accounts. I think this makes it clear that the customer base was a very important part of the sale and now they could be leaving in droves.
"The value of Yahoo and the size of the customer base could be dropping fast."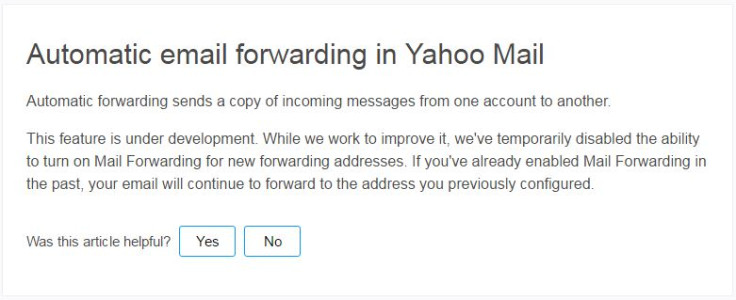 According to the Associated Press, customers who've set up forwarding in the past are unaffected by the changes.
For those of you affected by the changes, there are a couple of workarounds you can use in the meantime, such as setting an automatic reply containing your new email address.
This article has been updated to include a statement from Yahoo