In an effort to curb the surprising rise of presidential candidate Bernie Sanders, the campaign team for Hillary Clinton reportedly compiled a secret dossier containing a slew of "hits" to use against him on issues including immigration, LGBT rights and gun control.
In a 71-page document leaked by whistleblowing platform WikiLeaks, reportedly from the personal emails of campaign chairman John Podesta, the campaign's research director Tony Carrk outlined 12 key areas where Clinton could attack her Democratic rival.
"Attached are some hits that could either be written or deployed during the next debate on Sanders," wrote Carrk on 28 October 2015, roughly two weeks after numerous media outlets reported that the US public generally perceived Sanders to be victorious in the initial head-to-head debate.
The section headings in the leaked document, which was titled "Pls Review: Sanders Hits", included "Sanders not straight with people on taxes", "Sanders said gun control would not solve the problem" and "Sanders Voted Against Immigration Reform."
Based on the email, the document was ultimately prepared in advance of the Iowa caucus which took place in February 2016. Carrk wrote that "per HRC's request," the research team was doing a "deeper dive on Sanders's agriculture record to see if there is anything that could be problematic to Iowa."
Attacking strategies

"Sen. Sanders's progressive bona fides are called into question with his record on reducing gun violence," the dossier states in relation to attacks on Sanders' position on weapons. "Sanders, despite wanting to hold essentially every corporation accountable for something (such as fast food companies accountable for obesity), voted to protect gun manufacturers from legal liability."
On Sanders' positions on the rights of the LGBT community, Carrk stated: "Sen. Sanders is attacking Secretary Clinton, claiming she has been inconsistent and late to supporting marriage equality. But Sanders is rewriting history on his own record."
The email continued: "In 2000, Sanders was reluctant to take a clear stand on civil unions and marriage equality, and did not speak out forcefully on the issue. Sanders called for an end to the divisiveness of the opposition, saying there were "a dozen other issues out there that are as important or more important as that issue."
On taxes, the email slammed Sanders for not telling "the American people" about his plans for raising taxes including who will end up paying for such changes. "When confronted on details of his tax plan, he simply says it's coming. When he is asked what the highest rate would be, he demurs," the email stated.
"Stop attacking Bernie"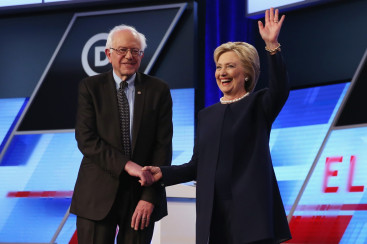 A separate email, sent from former Democratic staffer and political writer Brent Budowsky to John Podesta on 10 January 2016, called on Clinton to stop attacking Sanders during the debates.
"Hillary should stop attacking Bernie, especially when she says things that are untrue, which candidly she often does," Budowsky allegedly wrote. "I am one of the people with credibility to suggest Bernie people support her in November, and she [...] and others have no idea of the damage she does to herself with these attacks."
The email continued: "Right now I am petrified that Hillary is almost totally dependent on Republicans nominating Trump... she has huge endemic political weaknesses that she would be wise to rectify... even a clown like Ted Cruz would be an even money bet to beat and this scares the hell of out me."
WikiLeaks has released thousands of emails purportedly hacked from the personal email account of Podesta. Revelations to date include excerpts of Hillary Clinton's speeches to private banks alongside fresh information highlighting her close relationship with Wall Street.
The whistleblowing organisation recently released nearly 20,000 emails from the Democratic National Committee (DNC), the entity that manages the Democratic Party in the US. The files appeared to indicate that officials within the DNC plotted to undermine Bernie Sanders' candidacy during the primary process.
The release of the emails, believed to be part of a Russian-led campaign to influence the 8 November presidential election, resulted in a number of high-profile resignations.
---
At the time of writing, the Clinton campaign has not verified the legitimacy of the emails. IBTimes UK has contacted the Clinton campaign for comment. It is highly suspected that Russian intelligence has falisified statements and doctored documents in the past.