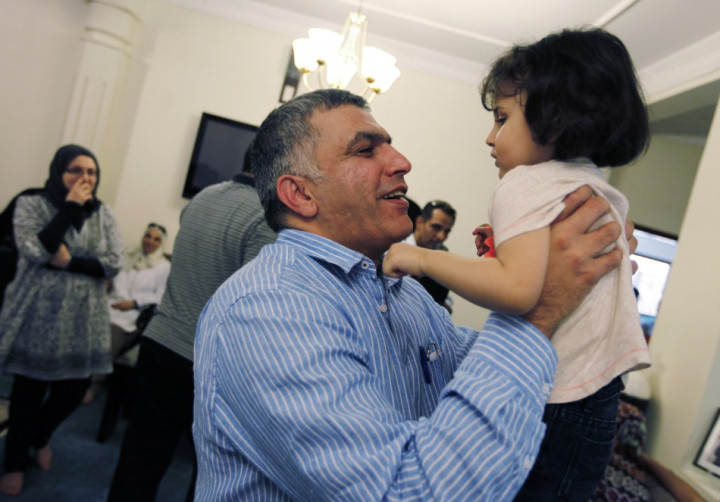 A Bahraini appeals court has acquitted human rights activist Nabeel Rajab over the case of an alleged insulting tweet against the prime minister - but he must still serve three years in prison.
In June, Rajab received a three-month sentence for claiming on Twitter that residents of Bahrain's Sunni Muharraq district were only supporting Bahrain's prime minister Sheikh Khalifa bin Salma for financial gain. This sentence has now been overturned.
However, Rajab must still serve a three-year term for three separate cases of inciting and participating in protests against Bahrain's Sunni Al-Khalifa monarchy.
The 48-year-old was already in prison for the Twitter conviction when the three-year sentence was handed down on 16 August.
The Paris-based International Federation for Human Rights (FIDH) welcomed the court's decision to repeal Rajab's Twitter sentence, but said further action is now required to preserve freeom of speech in Bahrain, a country with a "dismal" approach to civil liberties, according to Human Rights Watch.
"Nabeel Rajab's acquittal in [the Twitter] case is a relief but must not conceal that he was sentenced last week to three years' imprisonment," FIDH president Souhayr Belhassen said.
"At the moment, Nabeel remains in jail and Bahraini authorities continue to smother all criticism. The authorities must go further and release all human rights defenders arrested and detained for their human rights activities."
Series of punishments
The three-year sentence is the latest in a series of punishments for Rajab, who heads up Bahrain's Centre for Human Rights and has been at the forefront of pro-democracy protests during 16 months of unrest in the Gulf Arab state.
Just days before the Twitter trial began, Rajab emerged from a one-month prison sentence imposed in early May, when he returned from a protest meeting in Beirut, Lebanon.
Amnesty International has called for Rajab's immediate release, describing his sentence as "a dark day for justice in Bahrain."
EU foreign affairs Chief Catherine Ashton said she expected "that this sentence...will be reconsidered in the appeal process."
The US and Britain also expressed their concern at the sentence.
The 48-year-old activist was already in jail, having received a on Twitter, which sentence was reversed on Thursday.
The head of the Bahrain Centre for Human Rights used the microblogging site to claim that residents of the Sunni Muharraq district of Bahrain were supporting prime minister Sheikh Khalifa bin Salman only for financial gain.
During the Twitter trial, the activist described his case as "political" and "vindictive".
He stated in court that he has been subjected to psychological and physical torture, but he is "steadfast".