Officials are investing if a British terror suspect known as the White Widow is linked to the Westgate shopping centre massacre in the Kenyan capital Nairobi.
Witnesses have described seeing a white woman wearing a veil among the attackers taking part in the siege which is reported to have resulted in 62 deaths, including four Britons.
This had led to speculation that one of the woman involved in the shootings is Samantha Lewthwaite, widow of one of the 7/7 London bombers and key member of al-Shabaa, the military group who have claimed responsibility for the massacre.
A police source told the Daily Mirror: "There is a strong possibility that Samantha Lewthwaite could be one of the terrorists. We have reports that at least one, possibly two women, were involved in this siege.
"There are strong indications Lewthwaite has the capability and influence within al-Shabaab to carry out such an atrocity."
Kenyan anti-terrorism officers downplayed the suggestions. They said she was living with an al-Shabaab cell in Somalia.
Daughter of a British soldier, Lewthwaite is an Islam convert who is wanted by Kenyan police over links to a terrorist cell planning bombs attacks. It was reported she had fled over the border from Kenya to Somalia in March 2012.
The widow of 7/7 Kings Cross bomber Germaine Lindsay, Lewthwaite is also accused of planning a bomb attack to kill hundreds of British tourists in Mombasa with fellow British accomplice Jermaine Grant.
Both were arrested in December 2011 but Lewthwaite escaped along with her three children and has been on the run in Africa ever since.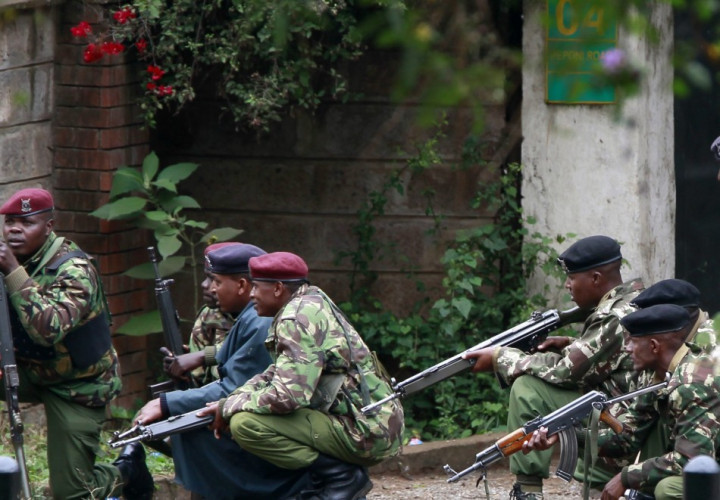 In March, she was accused of plotting an armed assault on a Kenyan court to free Grant who was facing trial on terrorism offences.
Prosecutors urged magistrates to move the trial to a high-security court.
Before the hearing took place, one man was arrested in Mombasa and was found to be carrying a grenade. Another suspect was stopped from crossing the Kenya/Tanzania border in possession of bulletproof vests and facemasks. Both men admitted to being part of the plot to free Grant.
Lewthwaite is also suspected of taking part in a grenade attack in Kenya which killed three football fans who were watching the Italy vs England Euro 2012 game. Security officials said she was also trying to recruit all-female terrorist squads in Somalia.
Believed to have converted to Islam at the age of 15, she met her husband on an Islamic internet chatroom when she was studying religion and politics at the School of Oriental and African Studies in Central London. They married in 2004.
When Lindsay died in the 2005 suicide bombing attacks in London, Lewthwaite was eight months pregnant with her second child.
READ:
Nairobi Westgate Mall Siege: Militants Threaten to Kill More Hostages [VIDEO]
Nairobi Westgate Mall Siege, Day 3 in Pictures [WARNING: GRAPHIC IMAGES]
Nairobi Westgate Mall Siege: Militants Threaten to Kill More Hostages
Nairobi Westgate Mall Siege: Kenyan Troops Launch Major Assault on al-Shabaab Insurgents
Nairobi Westgate Mall Siege: President Kenyatta Vows to Pursue Online Writers as Al-Shabaab Defies Twitter Ban