Narendra Modi UK visit: Where to watch the Indian Prime Minister's speech at Wembley Stadium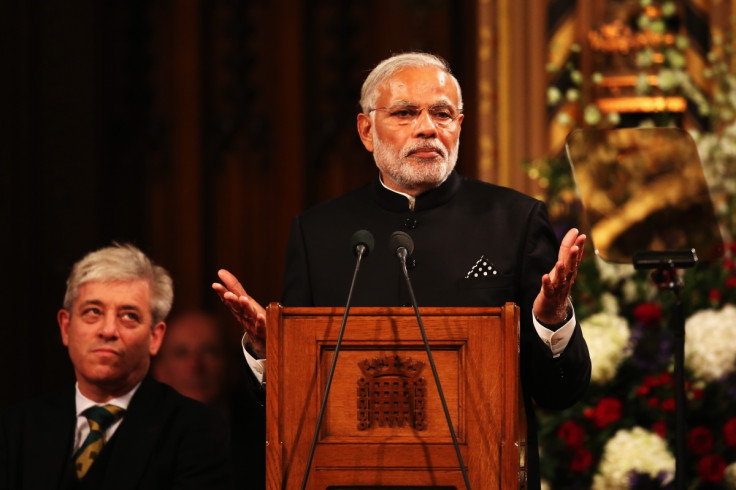 Indian Prime Minister Narendra Modi arrived in the UK for his three-day visit on Thursday (12 November). Modi is the first Indian Prime Minister to visit the UK in nearly a decade, with the opening day of his visit already resulting in £9bn ($13.7bn) in trade deals between the two countries.
On Friday, Modi is expected to address the UK's Indian diaspora at Wembley Stadium. Start time for the much anticipated speech by the renown orator is 16:30 GMT (22:30 Indian Standard Time). Nearly 60,000 people are due to turn up to hear the his speech, including an introduction by David Cameron. The event has been organised by the UK Welcomes Modi group and Modi's speech will be accompanied by a cultural extravaganza in honour of his visit.
While many British-Indians have expressed their excitement over having received their tickets for the event, not everyone has been able to secure a seat in front of Modi on 13 November. A large number of people took to social media to express their disappointment at how they had missed the deadline for registering for the welcome reception for Modi. Apart from them, many Indians across the UK who were unable to make it to London for the event are also eager to hear what the PM has to say.
For those who have missed out on the chance to be at Wembley – and for those back in India and the rest of his supporters around the world – you can still feel like you're part of "Modi Mania" by tuning into the different live streams of the reception.
Live stream of the Indian Prime Minister's speech at Wembley Stadium
Indian Prime Minister's official website
Modi had a busy first day in the UK, meeting with Cameron at Downing Street, paying tribute to Mahatma Gandhi at the statue in Parliament Square, addressing British MPs at parliament and attending a reception organised by London's mayor, Boris Johnson. Before heading to Wembley Stadium to address his adoring fans, Modi will be having lunch with the Queen at Buckingham Palace.
However, it wasn't just a red carpet welcome for Modi as day one of his visit was overshadowed by protests outside Downing Street. Hundreds of British-Indians gathered in Central London to condemn Cameron's welcoming of Modi, who many of them called a "terrorist" and accused of being responsible for rising intolerance in India.
© Copyright IBTimes 2023. All rights reserved.