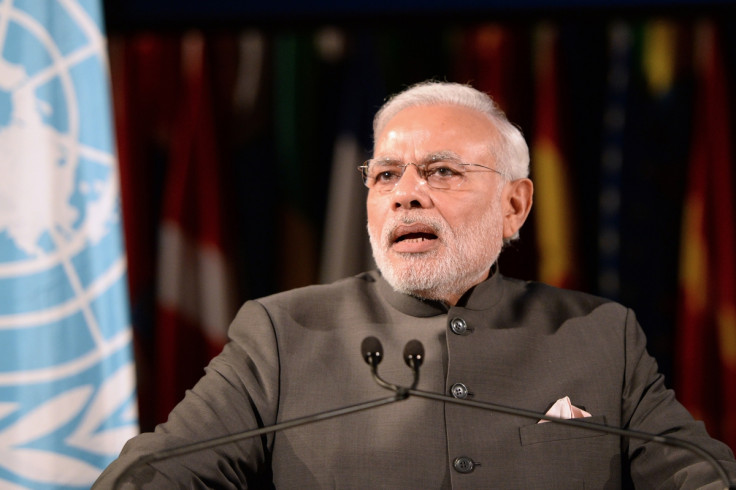 Organisers of the 'UK Welcomes Modi' reception have announced that they will be releasing a limited number of extra tickets for the event at Wembley Stadium on 13 November. Narendra Modi is due to address the UK's Indian diaspora at the event as the first Indian PM to visit the UK in nearly a decade.
The first round of registrations for the event closed on 2 October, with organisers reporting 60,000 sign ups. Many were left disappointed after missing the deadline for registrations, taking to Twitter to plead with organisers for a chance to apply for a ticket. On Wednesday (21 October) organisers announced that they would be answering their pleas with the release of additional tickets.
A spokesperson for the UK Welcomes Modi reception said: "Due to unprecedented demand, we will release a limited number of extra tickets for the community reception in honour of Shri Narendra Modi at Wembley Stadium, for which there has already been an overwhelming response."
Registration for the extra tickets will open on Thursday 22 October at 10am and close six days later at midnight on Wednesday 28 October. Organisers have said that this is the "final chance" for members of the public who want to attend the reception for Modi and hear his address.
More than 450 organisations from across the UK have teamed up to put on a huge cultural show in honour of the Modi's visit to the UK and are calling the event the "biggest reception any elected foreign leader has received in the UK". Many have taken to Twitter to relay their excitement over the event as some have begun receiving confirmation of their registration for tickets being successful.
However, not everyone will be welcoming Modi with open arms. A large number of Indians in the UK have come together to plan mass protests against what they believe is discrimination from Modi and his party against India's minority groups.
Protesters will gather outside 10 Downing Street on 12 November, the day that Modi is expected to arrive in London. Headed by the campaign group Awaaz Network, protesters are calling on people not to "buy the stage-managed, internationally orchestrated hype about Modi". They are also asking people not to attend the UK Welcomes Modi reception.
The Modi government has come into increasing controversy recently, particularly in light of beef bans being imposed across India. Earlier this month leading Indian writers rejected a prestigious literary award in protest over the Bharatiya Janata Party's "vicious assault" on "India's culture of diversity and debate". If the protests in the UK go ahead, they will echo sentiments from Modi's visit to the US in September, where members of the Indian community staged a "die-in" to protest against his visit.