Cargo spacecraft Dream Chaser will be launched to the International Space Station (ISS) using an Atlas V rocket on a resupply mission. Nasa has said that the mission has a window open in late 2020.
Nasa has abandoned plans to use the autonomous Dream Chaser for crew transportation, instead favouring SpaceX's Dragon 2 and Boeing's Starliner capsules, according to Nasa Spaceflight.
The Dream Chaser, developed by the Sierra Nevada Corporation (SNC) was originally intended to be a crew transport capsule and not just a cargo carrier.
The company put the spaceplane through a rigorous testing phase which included completing a successful approach and landing test 2 (ALT-2) in November. The test involved dropping the aircraft from a helicopter from 12,324 feet.
The exercise saw a 234-UT heavylift helicopter lift the Dream Chaser to a certain height and release it. The entire drop took 60 seconds and the craft reached a top speed of about 330 mph while gliding 16,217 feet horizontally. When it reached the runway, it was going at 191 mph.
At the Armstrong Flight Research Center, runway tow tests were carried out. This involved dragging the Dream Chaser down a runway towed by a truck.
The ALT-2 tests were "completely successful", says Nasa. It also confirmed that critical components needed for ISS missions were in working order. "The test was a huge success and when we looked at the data we were thrilled to see how closely our flight performance projections matched the actual flight data," said Steve Lindsey, vice president of SNC's Space Exploration Systems business unit.
"This gives us high confidence in our atmospheric flight performance as we move towards orbital operations."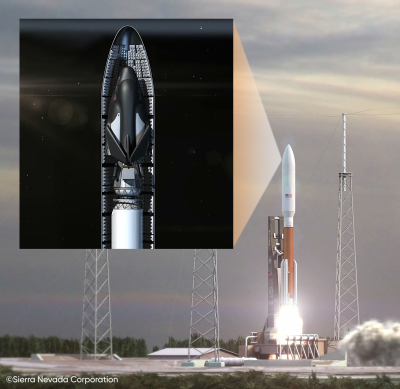 Now that the design of the spaceplane has been validated, it has been deemed safe for missions to and from the ISS.
"Achievements of this magnitude require the involvement and collaboration of many people. The Free-Flight test took place at the same historic location where the sound barrier was broken 70 years ago and where the Space Shuttle programme began 40 years ago. With that historic legacy, I would like to extend our sincere appreciation to our whole flight team," added Mark Sirangelo, SNC's Executive Vice President of Space Exploration Systems.