The daughter of Pretenders singer Chrissie Hynde and Kinks legend Ray Davies has appeared in court for her protest against a controversial new link road.
Natalie Hynde, 30, was bailed earlier today (Tuesday) on charges of aggravated trespass and obstrucing an officer executing a High Court writ.
The defendant spent weeks protesting about diggers building a £100m road through a field which was fought over during the Battle of Hastings.
In a sign that she has inherited her mother's streak for radical protest, Hynde chained herself to a tree as baliffs sent in by the council cleared out a protest camp to let in construction vehicles last month.
She was also among several protestors who dug tunnels to sit in and delay construction work.
Council leader Peter Jones told Hynde and fellow protesters to "shove off" in the wake of the protests.
Speaking to IBTimes UK before her court date, Hynde was unrepentant and vowed to continue protesting against the Bexhill-Hastings link road. She admitted she felt "scared" about the "bloody dangerous" burrowing, but insisted her rock star parents approved of her radical protest.
Hynde said: "Of course my parents are concerned, but they think it's great because my Mum's an activist who is into animal rights. She is really up for it and so is my Dad.
"My Mum has a sense that animal rights are about people; that it's a humanitarian cause and I'm truly inspired by her, but I'm of this generation.
"I feel sorry for the trees."
Chrissie Hynde, who herself was once arrested for picketing KFC in Paris, has backed her daughter, branding the new road "ill-conceived."
And the younger Hynde believes that she can help her cause by exploiting her family name.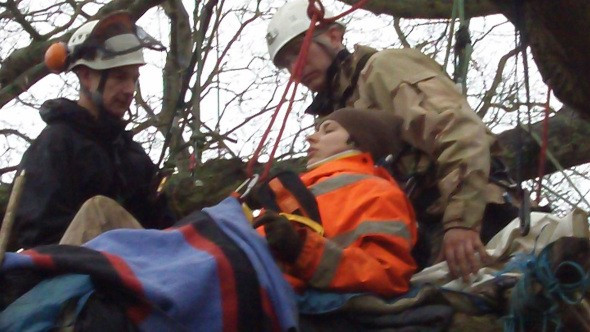 "When there is an element of celebrity, it is really good because it helps makes it an issue," she told IBTimes UK.
"Security think they can do what they like, but having cameras there is very helpful: it's like putting a beam on them. They do not like it at all."
She claimed elderly protesters were pepper-sprayed by the authorities after sitting down in front of a digger.
"They were pepper spraying pensioners - that was outrageous," she said.
Hynde was forced to wear a neck brace after being hauled from a tree by baliffs. However she said that "I think the fact it was known who I was might have prevented worse treatment."
Ahead of her court date, Hynde set out the radical manifesto of the Coombe Haven Defenders.
"The protest is absolutely not over. The trees have been chopped down, but that is not the end. You cannot let them walk all over you. The trees are symbolic of what is being done to our society and we cannot let that happen.
"The road is such an outrageous waste of money, in this decade of austerity. They are tarmacking the UK: This is a beautiful place, there is a 400-year-old oak tree here.
"This is also a site of historical context, so this site is patently of world interest.
"Also, the council have not got the money from central government. So they should stop doing what they are doing."