Nation of Islam leader Louis Farrakhan led protesters at the 20th anniversary of the Million Man March at a 'Justice or Else' rally this yesterday (10 October). The event mirrored the original event which reflected the work the American civil rights movement still had to make and called on equality of race.
Messages from the first march that took place in 1995 were echoed by black leaders including the 82 year-old Farrakhan, civil rights leader Benjamin Chavis and US Republican Danny K Davis. Farrakhan's words were delivered to the masses on the National Mall in Washington and focused on passing the civil rights torch to the next generation.
"What good are we if we don't prepare young people to carry that torch of liberation to the next step?" he said. "What good are we if we think we can last forever and not prepare others to walk in our footsteps?"
Those who expected Farrakhan's black separatism message to have softened with age were in for a shock. He continued: "Moses was not an integrationist and neither are we. Let me be clear. America has no future for you or for me. She can't make a future for herself, much less a future for us."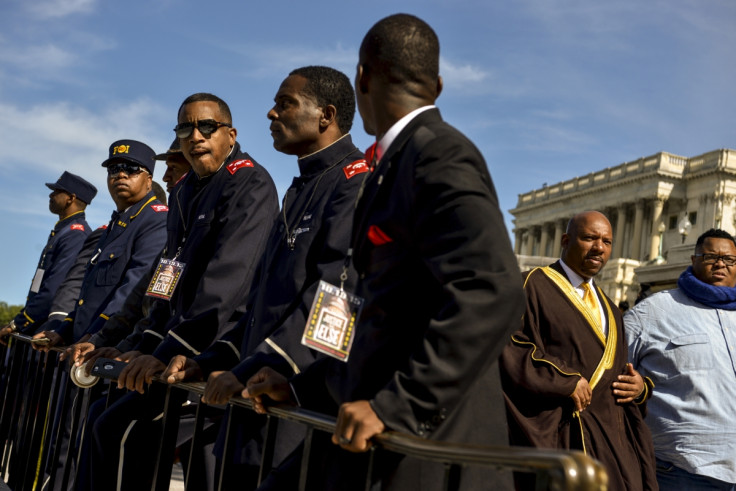 Addressing the subject of the fatal shooting of 18-year-old African-American Michael Brown in Ferguson, Missouri in August last year by white policeman Darren Wilson that ignited a race riot, Farrakhan said: "These are not just young people who happened to wake up one morning. Ferguson ignited it all," he said. "To the brothers and sisters from Ferguson who laid in the streets, all the brothers and sisters from Ferguson who challenged the tanks, we are honoured that you have come to represent our struggle and our demands."
Bringing the march to the digital generation, the whole march was available streamed online. Attendees were also encouraged to use the hashtag #MillionManMarch.
The first Million Man March took place on 16 October 1995 and drew crowds from all across the US black communities as they marched on the US capital Washington where they witnesses more than 12 hours of speeches and rallying cries from inspirational black leaders. Farrakhan himself spoke for more than two hours to the assembled crowd.