More people in the UK are following a vegan diet, with over 500,000 Brits choosing not to eat any animal products including meat, fish, milk, cheese, eggs and honey.
Across Britain, pizza restaurants are embracing vegans by introducing vegan-cheese pizzas with a variety of vegan-friendly toppings, from "mock" meats (meat substitutes) to fresh vegetables and more.
On National Pizza Day, here are 10 of the best pizza eateries for vegans in the UK.
Fed by Water, London
This restaurant offers a combination of healthy eating and authentic Italian food, with a selection of mock vegan "meats" such as ham and salami as well as a variety of different vegan cheeses. Find it in Dalston Cross Shopping Centre.
Ecco Pizzeria, Leeds
You can order delicious, vegan takeaway pizza at Ecco, which offers fresh, wood-fired Neopolitan-style pizzas with vegan mozzarella.
Dough Pizza Kitchen, Manchester
Head to the city's Northern Quarter for pizzas with a selection of dairy-free toppings. You can also order from Dough Pizza Kitchen with Deliveroo.
Zizzi's, UK-wide
There are 140 restaurants across the UK, many of which offer deals. The first chain to cater for vegans, Zizzi's also offers dairy-free mozzarella on its delicious pizzas.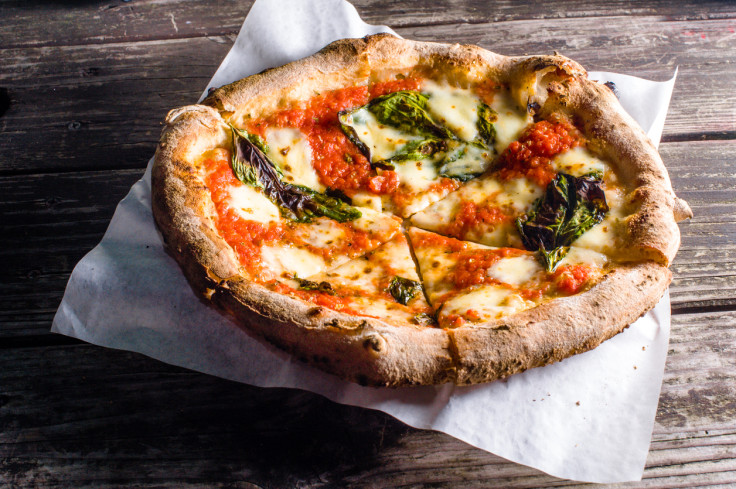 Firezza, London
Approved by Peta, you can get dairy-free cheese on any of the pizzas at Firezza. Order online and select the vegan cheese option, but remember to untick the mozzarella box.
Vegan Pizza Co, Cardiff
It does what it says on the tin - this restaurant offers a wide selection of stone-baked pizzas especially for vegans. Founded in 2015, not only does it offer vegan cheeses, but also fake meats and fresh vegetables. It is available to hire for private functions, too.
Maguire's Pizza Bar, Liverpool
There are loads of great options at this pizza place, including vegan chicken and cheeses. Its also supportive of the local music scene, hosting regular gig nights in its back room.
Dough, Edinburgh
It offers tasty, wood-fired pizzas topped with vegan goodies delivered across the city. Go for the "vegan affair" - tomato, vegan cheese, aubergine, red onion, peppers and rocket - delicious.
Mr Singh's, Birmingham
There are three restaurants across the city which offer vegan-friendly pizzas topped with vegan meats - including vegan sausage - and dairy-free cheddar.
Greens Pizzeria, Belfast
Greens offers a separate vegan menu, including garlic bread made with vegan butter and an option to make the pizza base sourdough. Go for the "cranmore" - slow-roasted tomatoes, garlic, basil and vegan cheese.