The National Union of Students (NUS) has rejected a motion calling on the organisation to condemn the militant group Isis on the grounds that to do so would be "Islamophobic".
According to student website "The Tab" a motion was put forward to the NUS National Executive Council in September asking the student body to express solidarity with the Kurds currently fighting a bloody war against Isis and also to call for unity among Muslims.
One part of the motion, proposed by Daniel Cooper and Clifford Fleming, along with International Students Officer Shreya Paudel, who is of Kurd origin, read: "To condemn the IS and support the Kurdish forces fighting against it, while expressing no confidence or trust in the US military intervention."
The motion has already been passed by Scottish NUS. However the NEC motion was rejected by a bloc of voters led by Black Students Officer Malia Bouattia: "We recognise that condemnation of ISIS appears to have become a justification for war and blatant Islamophobia. This rhetoric exacerbates the issue at hand and in essence is a further attack on those we aim to defend."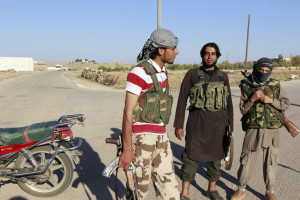 Bouattia's stance was backed on Twitter by fellow NEC member Aaron Kiely, who said she was challenging the "Western, racist narrative around 'ISIS'". The Tweet was later deleted.
However LSE Students' Union Education Officer Tom Maksymiw said the NUS decision not to back the motion was "disgraceful, beyond self-parody".
On his blog Cooper, a member of the NUS's National Executive, said he was bewildered by Bouattia's claims. "The motion was partly written by a Kurdish student activist, and presented by the International students' officer, Shreya Paudel. I have looked again and again at the contents of the motion, yet I cannot track any Islamophobia or racism."
"Postcolonial Theory and Language" student Bouattia said she would propose a motion condemning Isis - but only one that would "in no way pander to Western imperialistic intervention or the demonisation of Muslim peoples."