Kurdish refugees fleeing bloody fighting in and around the northern Syrian town of Kobani have spoken of the brutality being meted out by Islamic State terrorists - many of whom are said to be British.
Around 700 Kurds are holding out against a foe far superior both in terms of manpower and weaponry, with dozens of smaller villages also in great peril. It has been estimated around 13,000 Kurds in total are at risk of being massacred, raising the spectre of "another Srebrenica" if air-strikes fail and Isis (also known as Islamic State) prevail.
The Daily Mail has spoken to some of those fleeing the almost-encircled town and heard stories of unimaginable horror. Although many cannot be independently verified, similar brutality has been recorded everywhere Isis descends - as the recent beheadings of four hostages, including Britons Alan Henning and David Haines, demonstrate.
"I have seen tens, maybe hundreds, of bodies with their heads cut off," said father-of-four Amin Fajar, who managed to escape through a narrow "corridor" which links the stricken town with the Turkish border. "Others with just their hands or legs missing. I have seen faces with their eyes or tongues cut out – I can never forget it for as long as I live."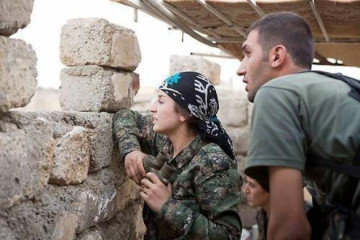 If the last escape route from Kobani is cut off, those inside - including women soldiers as well as civilians, many of them elderly - will be left to their fate. Coalition air-strikes have proved incapable of deflecting Isis from taking the town, which would give them a strategic hold over a long stretch of the Syria-Iraq border.
Turkish troops a few hundred metres away have orders not to intervene on behalf of the Kurds - their old enemy - which has led to unrest within Turkey in which at least thirty protesters have died. Many Kurds believe the Turks are sympathetic to Islamic State and there are allegations that Isis "snatch-squads" are even operating in towns like Akcakale within Turkey - a Nato member - hoping to grab more Westerners and take them back to Syria.
One farmer from a village near the besieged town, Ahmed Bakki, said he tried to call his cousin who had stayed behind when the rest of his family fled. "We phoned my cousin and IS answered his phone. They said, 'We've got his head'."
Bakki said no-one is safe from the militants. "An English teacher in our village tried to reason with them, but they just called him a kaffir (non-believer) and tied him to their car and dragged him away. We heard they beheaded him later. My neighbour was beheaded because they said he was 'delivering vegetables to the kaffir'. They burned his farm, livestock, even his bees – they destroyed everything."