Donald Trump's apparent disdain for Nato will embolden Vladimir Putin's military ambitions, the alliance's former deputy supreme allied commander for Europe has told IBTimes UK.
In March 2016, Trump questioned the need for the North Atlantic Treaty Organization (Nato). He also criticised members who did not pay their fair share − 2% of their GDP − and cast doubt on the terms of Article Five, the cornerstone resolution where an attack on one alliance member is an attack on all.
Sir Richard Shirreff said: "That sort of off-the-cuff rhetoric in an election campaign is taken very seriously.
"The one factor that has ensured the security of Europe since 1949 has been the total certainty, that whatever president is in the White House, they will come to the aid of any Nato member that has been attacked.
"That is why we need a pretty resounding statement and commitment to Article Five from the new president in order to do damage limitation and to send out a strong signal," Shirreff told IBTimes UK.
Russian troops are currently undertaking armed exercises in Serbia over 13 days with troops from the former-Yugoslav republic and Belarus in a procedure dubbed "The Slavic Brotherhood".
Moscow says it is responding to an encroachment by Nato on its borders.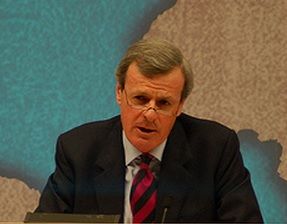 Meanwhile, a five-day Nato drill took place in Montenegro in November with personnel from seven alliance countries and 10 partner states.
The alliance's secretary-general, Jens Stoltenberg, said it was readying itself for its "biggest reinforcement" since the end of the Cold War.
Shirreff said: "I think Putin's aim is to neutralise Nato, and one of the ways he does that is by decoupling America from European security. That is what he is going to be looking for by cosying up to Trump."
Policy makers in Kiev and in wider Europe are concerned as to what a Trump presidency, and the US relationship with Putin, will mean for the ongoing conflict in Ukraine, which has been raging for more than two and half years.
Stepan Shakhno, co-founder of London Euromaidan, said there is optimism the support Ukraine has traditionally received from the Republicans, who control Congress and the Senate, will hold them in good stead.
On Friday (11 November), Russia sent a naval group led by its aircraft carrier Admiral Kuznetsov to launch strikes on rebel regions surrounding the war-torn city of Aleppo.
Shirreff said, in the short-term at least, Syria, not Ukraine would be more of a priority for Putin.
"In military terms, it appears that his focus is very much on Syria, but he has got significant military capability in eastern Ukraine and on the borders of Ukraine and on the borders of the Baltic states."