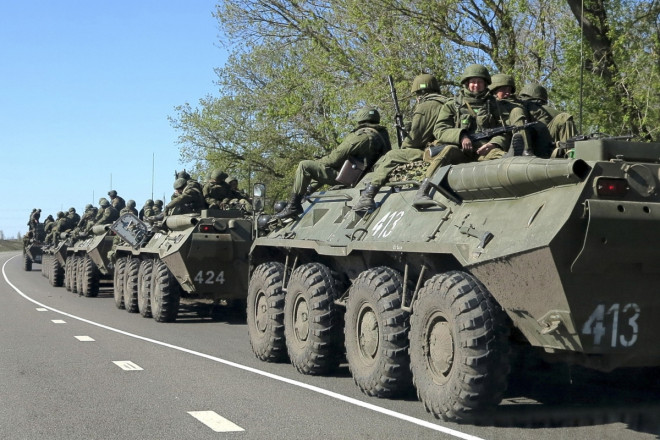 Russian president Vladimir Putin has appeared to soften his stance on Ukraine with a call for an autonomy referendum to be delayed and an acceptance of the forthcoming presidential elections.
After calling for a postponement of the separatists' referendum on 11 May, Putin also hailed the 25 May presidential election in Ukraine as "a movement in the right direction". He said that the Russian military had pulled back from the Ukrainian border to avoid claims of intimidation.
"We were told constantly about concerns over our troops near the Ukrainian border," Putin said after meeting Didier Burkhalter, president of Switzerland and head of the Organisation for Security and Cooperation in Europe (OCSE). "We have pulled them back. Today they are not at the Ukrainian border but in places of regular exercises, at training grounds."
Nato, however, dismissed his assertion and said there was no indication of a withdrawal of the 40,000 Russian troops massed along the Ukrainian border.
Russian defence minister Sergei Shoigu told US defence secretary Chuck Hagel last week that the Russian forces had returned to their permanent positions but Nato refuted that claim too.
Despite the claims and counter-claims over Russia's troop presence, Putin seemed to have backtracked on the tough stance he had previously adopted over the presidential election in Ukraine. Until recently, he had maintained that it would be invalid without consitutional reforms first.
"I want to emphasise that the presidential election itself is a movement in the right direction, but only if all citizens of Ukraine understand that their rights are guaranteed," Putin told reporters in Moscow.
Separatist leader Roman Lyagin, chairman of the Donetsk People's Republic election commission, said that plans for the 11 May referendum on separation remained "unchanged".
The referendum was called by separatists to decided whether the Donetsk region should become a sovereign republic.
Putin's call for a delay came as Ukrainian forces regained a government building in Mariupol which had been occupied by separatist forces.