Nato Summit 2014: Arms Industry to Profit From More Aggressive Stance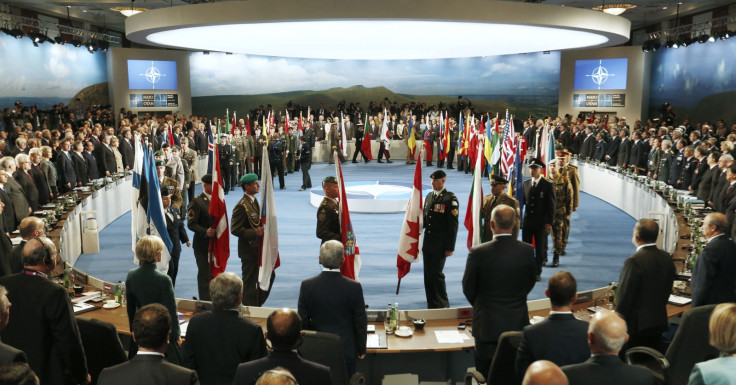 World leaders are to use the Nato Summit in Newport, South Wales, to urge their counterparts to increase defence spending to better arm Nato members and their allies.
At a press conference to open the summit, Nato Secretary General Anders Fogh Rasmussen said: "On defence investment, we will turn the corner and reverse the trend of declining defence projects."
It's a sentiment that has already been obvious in conversations with delegates and the unilateral actions of governments, especially those of the United Kingdom.
Already, the UK has announced the sale of 123 surplus combat reconnaissance armoured vehicles to Latvia, as the Baltic State seeks to fortify, amid fears over the territorial ambitions of neighbouring Russia.
Defence Minister Michael Fallon said: "I am delighted that Latvia will soon benefit from these proven and life-saving battlefield capabilities, including ambulances and command centres.
"This is just one way we are supporting our Baltic Nato allies. As a leading member of Nato, the UK is keen to restate publicly our support for the collective security of its members and enable our partners to contribute to international peacekeeping and security operations."
The deal was struck a day after David Cameron signed a £3.5bn deal with General Dynamics Specialist Vehicles for the purchase of 600 new armoured vehicles – the biggest single order in more than 30 years.
That Nato is an organisation that inspires armaments should not surprise anyone: it was founded solely as a defence mechanism. But the presence of heavy weaponry on site here at the Celtic Manor is startling.
There are tanks on the golf course, aeroplanes ornamenting the driveways, the constant buzz of low-flying helicopters overhead and soldiers in full combat gear and laden with enormous guns patrolling the grounds.
On the afternoon of September 4, UK Trade and Investment (UKTI, a government export support function) led tours of displays of weaponry from some of the world's largest defence companies, including Raytheon and Airbus Defence and Space.
Other governments are at it too, of course. On September 3, a senior Nato official told reporters gathered at Celtic Manor the plan was for the organisation to greatly increase its financial and technical support for the armed forces in countries such as Iraq, Syria and Libya.
As he arrived at the summit, Estonian Foreign Minister Urmas Paet told IBTimes UK he hoped one of the outcomes would be the establishment of a "trust fund" for Ukraine. Rather than arming them directly, this fund could then be used "strategically" in order to improve Ukraine's armed forces.
While Rasmussen spoke of a trend of declining military projects, military spend has only been going one way for many years: up.
Between 2002 and 2011, the world's military expenditure rose by 43%, according to the Stockholm International Peace Research Institute. US military spend increased by 59%, while it was up by 18% in the UK. In Germany and France there were marginal decreases but the overall trend across the world is for spending to escalate exponentially.
Defence is one of the UK's most prominent export industries but the blurred line between the state and the private sector has long since drawn the ire of campaigners.
"They're the ones who really determine the outcome of the summit," one protester told IBTimes UK, in reference to arms companies. "If they're represented so heavily on site, then surely the peace activists should have their place at the table too?"
Defence is a self-perpetuating industry: to stop people blowing stuff up, you almost always have to blow them up instead. Looked at through this lens, the Nato Summit, with its tough rhetoric on Russia, Iraq, Afghanistan, Syria and Libya, is certainly going to be a boon for the armaments industry.
© Copyright IBTimes 2023. All rights reserved.