The Estonian Minister for Foreign Affairs has opened the door further to the creation of a Nato army base on Estonian territory, as it seeks to boost security in the face of Russian expansionism.
In an interview with IBTimes UK at the Celtic Manor, Newport on the side-lines of the Nato Summit, Urmas Paet said that recent moves to strengthen Nato's presence in Estonia should be developed further still and that he hoped that this would be one of the outcomes of the summit.
Currently, there are 150 US soldiers based in Estonia. The country's Ämari Air Base, 134 miles from the Russian border, has been recently inducted into Nato's Baltic Air Policing Patrol, meaning aircraft from neighbouring Nato members can be based there. There has also been an increase in Nato ships entering Estonian ports.
Paet said that the presence of a Nato ground base would be "very important symbolism".
"[It shows] all level of security in Nato countries is the same. If somebody has bad ideas, it's not only Estonia or some other country in the region with whom they try to seek the conflict, it's with all Nato allies. It's a clear message," he said.
However, when pushed as to whether he would welcome the installation of nuclear missiles on Estonian soil, the minister said that the issue had yet to be discussed.
Much attention has been devoted to the situation of the Baltic States, which have substantial Russian populations, many of whom are supportive of Russia's actions in East Ukraine. Paet admitted that such sympathies are common, but claimed that the parallels between Estonia and Ukraine are few.
"Yes of course you can find Russians in Estonia who say that what Putin is doing in Ukraine, annexation of Crimea, there is some justification. They share the view which is overwhelming the view in Russia, but that doesn't apply to the Estonian situation. All the people in Estonia want to live in Estonia, not the Russian Federation," he said.
Estonians, he said, are not "specifically worried" about Russian intentions and its sovereignty, due to the existence of Article Five of the Nato Charter, which would see the bloc act to protect Estonia from Russia in case of an invasion.
The sentiment was reiterated by Barack Obama, the US President who yesterday visited Estonia on his way to the Nato Summit.
"It is unbreakable, it is unwavering, it is eternal. And Estonia will never stand alone," Obama said in Tallinn.
Paet also pledged Estonia's support for Ukrainian and Georgian accession to Nato, saying that "it's not up to Russia to dictate who can be a member of Nato".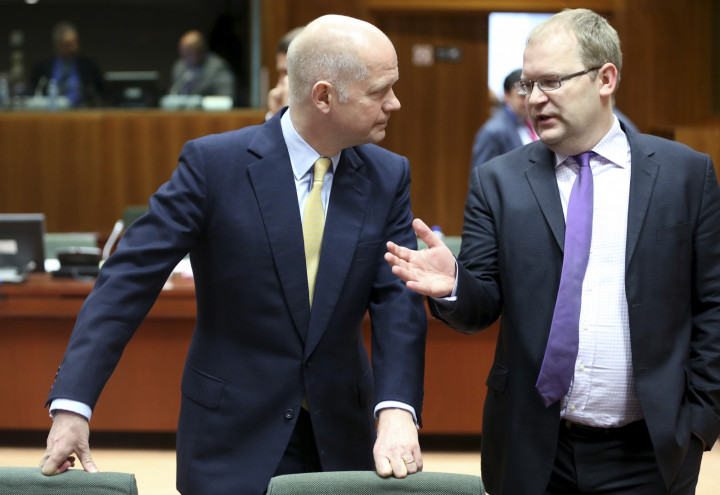 "Estonia supports their principle. European countries which fulfil conditions and criteria should get the chance. Ukraine is not an exception. Recall the Bucharest summit a few years ago, when it was clearly said that Ukraine and Georgia had future as Nato members. But it's important that they fulfil all the conditions," he said, adding that the situation is not likely to arise in the short-term, given the domestic reform Ukraine must undertake both constitutionally and in reducing corruption, before its case could be considered.
Estonia recently started treating wounded Ukrainian soldiers in its hospitals and Paet said that the country is willing to up its support of its beleaguered former Soviet counterpart by providing financial and technical assistance.
"One of the concrete ideas is to establish a trust fund for Ukraine where all Nato countries contribute and work together with Ukraine to spend the resources to support Ukraine in the situation of getting control back over its territory. This is mainly for technical assistance," he said.