Nato Summit 2014: Secretary General Says International Community Has 'Obligation' to Stop Isis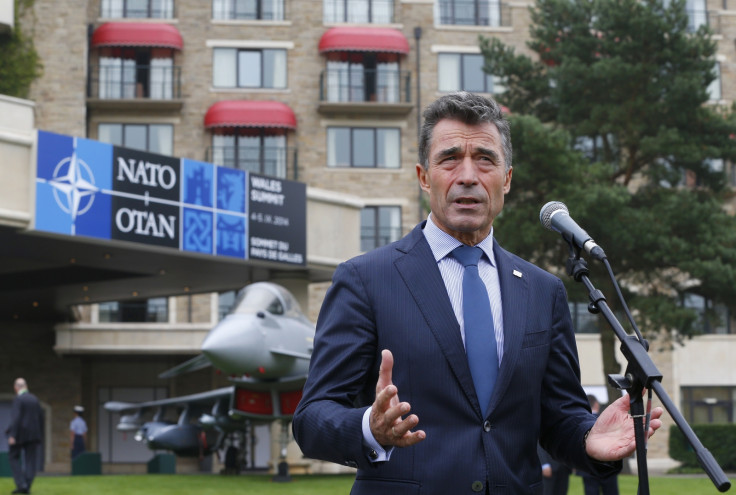 The international community "has an obligation to stop the Islamic State from advancing further", according to the Secretary General of Nato.
Anders Fogh Rasmussen welcomed David Cameron and Barack Obama's determination to "confront" Isis (known as Islamic State) militia in Iraq.
Responding to an op-ed published in The Times on 4 September, he said: "I welcome that individual allies have taken steps to help Iraq. I welcome the US military action to stop the advance of the terrorist org Islamic State. I welcome that other allies have contributed in different ways."
As yet, Nato hasn't received a call for assistance from the Iraqi government but any such request would be "seriously considered". Nato previously provided training to Iraqi troops, which ceased in 2011. A resumption of this activity is believed to be the main option on the table.
Speaking to reporters at the beginning of the Nato Summit 2014, he described the event as "one of the most important summits of our life", saying it would "shape future Nato" and "demonstrate its resolve, unity and solidarity" in the face of crises in Ukraine, Iraq and Syria.
Speaking on the ongoing crisis in eastern Ukraine, Rasmussen called on Russia to "pull back its troops from Ukraine borders, stop the follow of weapons into Ukraine, stop the support of armed militants in Ukraine and engage in constructive political process".
On September 3, Russian President Vladimir Putin said he hoped to broker a peace deal between Ukraine and rebels demanding to join the Russian state by 5 September.
While Rasmussen welcomed "all efforts to find a peaceful solution to the crisis in Ukraine", he implied the reality on the ground suggests Russia is not serious about peace.
Senior officials from Nato member states will meet today with Ukraine's Prime Minister Petro Poroshenko to look at ways of increasing cooperation. Nato will not provide arms directly to Ukrainian forces but it's understood individual Nato members are free to do so.
UK Prime Minister David Cameron seemed to rule out the prospect of the UK unilaterally arming Ukraine, in an interview with BBC News.
Rasmussen urged the two candidates in the ongoing Afghanistan electoral process to end their standoff over election results immediately.
The election of a new president has stalled while an audit takes place. While this is ongoing, the US cannot sign an agreement with Afghanistan to allow troops to remain on the ground after the end of the year.
Rasmussen said: "I'm encouraged that both presidential candidates have declared that they're ready to sign the security agreement soon after taking office. I'm hopeful the necessary agreements will be signed in due time so that we can deploy the resolution.
"We are approaching a time when that decision will have to be made so I encourage both candidates to complete the electoral process as soon as possible in a way that can be agreed by both candidates."
© Copyright IBTimes 2023. All rights reserved.