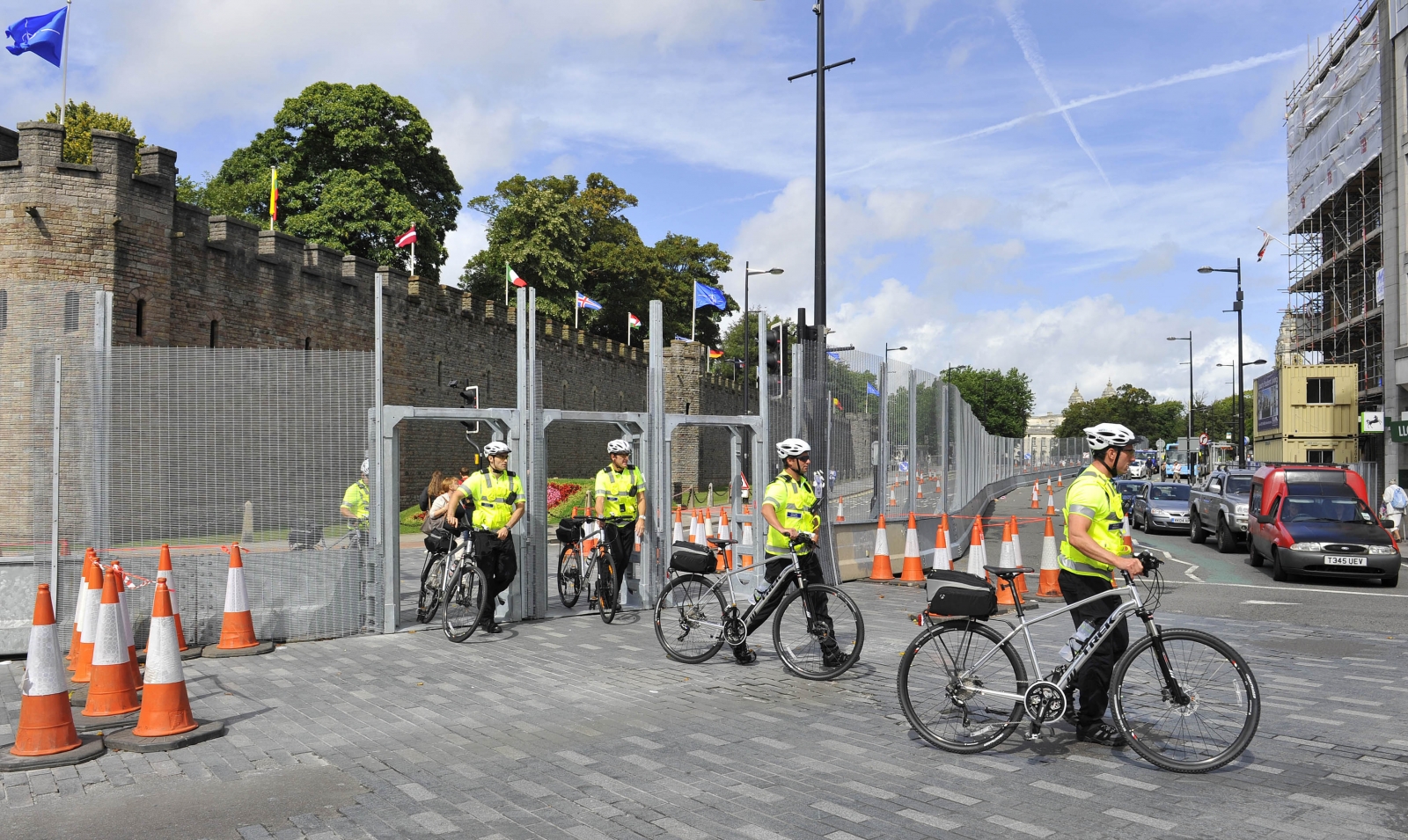 Hundreds of campaigners are to descend on Newport in South Wales to protest against the upcoming Nato summit, which will be held in the nearby Celtic Manor resort on 4 and 5 September.
A coalition of protest groups, including the Campaign for Nuclear Disarmament, No to Nato, Stop the War and South Wales Anti-Nuclear, will demand nuclear disarmament and an end to what they perceive to be imperialist Western foreign policy.
Eddie Clarke, of the No to Nato group, told IBTimes UK its overarching objective was to put an end to Nato, an organisation he blames for the global stockpile of nuclear weapons.
"The short-term objective is to stop the Trident programme," he explained. "We believe Nato is persuasive. Regarding Scottish independence, Nato is talking to the Scottish National Party, saying that if you leave the UK, you'll find it difficult to stay in Nato. It's the political shenanigans we object to, the influence it has on governments, even in South Wales."
His views were echoed by the General Secretary of CND, Kate Hudson, who said: "Through its insatiable expansion into Eastern Europe, capitalising on the vacuum left following the collapse of the USSR, Nato has contributed to heightening tensions around Russia and Ukraine, and risks provoking a new Cold War.
"We don't want US-Nato nukes on European soil. We don't want its wars of aggression. And we're here to challenge this aggressive alliance which makes all of us less safe. Tens of millions around the world want peace, justice and an end to Nato."
So far, the main political parties have distanced themselves from the protests, with only the Green Party, which has a very small presence in South Wales, pledging to join the organised campaign.
Simon Coopey, a Plaid Cymru hopeful at the next general election, said that for him "it's not a 'no' to Nato, but a 'no' to imperialism".
He said: "I'm in the maybe camp. I can see both sides of the coin here. I understand Nato was important for security in the Cold War but it doesn't seem to be as relevant today. It seems to be topping off US imperial ambitions in Afghanistan and Iraq."
Coopey criticised the organisers for "dumping" the event on South Wales without considering the impact on the local economy.
There are already a dozen miles of perimeter fences in place around Newport and Cardiff, with roads and school closures promising to cause disruption to the working week, as well as local commerce.
"Nobody has given anything clear as to how much money it will bring into Wales or Newport. People having to take the day off work because of travel disruptions and schools being closed, it looks like it will have the opposite effect. Money's going to be taken out of the economy because people aren't going to be able to get to work," he told IBTimes UK.
His opponent in next year's election, Labour MP for Newport West Paul Flynn, is more sanguine.
"After the summit, the leaders will sign the Newport Accord," he told IBTimes UK, with the implication the event could help to put the Welsh city on the international map.
"In the Celtic Manor, we have some of the best facilities in the UK and Europe. This could be a fantastic advertisement for Wales," he said.
Flynn hopes even the protesters could add to the local economy, provided they stop off for a drink in some of the local pubs, or a bite to eat in a café along their protest march. But he was scathing of what he perceived as a poorly organised protest effort.
"There was a long march of 192 miles planned [in the run up to the summit]; how far do you think that march got? I think it got from one end of the field to the other. It hasn't happened. This is partly a phantom protest," he told IBTimes UK.
"I'm speaking as someone who has been going to peace protests all my life, but peace protests which were at least competent. When we said we would have a march, we would do it properly, we'd have professionally made banners."
Flynn said he had been scheduled to speak at the summit but had been "disinvited" because of the strong views he holds over the wars in Afghanistan and Iraq, of which he has been a vocal critic.
More than 150 ministers and heads of state will be attending the summit and there will be 9,500 police officers on duty, sourced from all 43 police forces from the UK, while Nato warships will be present in Cardiff Bay.
Click here for a guide to the anti-Nato protests.