An Indonesian businessman has become the target of a hate campaign by web users over his Nazi-themed café - which is covered in the iconography of Adolf Hitler's regime.
Soldeatenkaffee - meaning Soldier's Café in German - is painted blood red and its walls are plastered with Nazi-era propaganda posters, created by Josef Goebbels to spread Nazi values.
Diners wear full Nazi costume to the café in Bandung, west Java, and pick a meal from a menu using Nazi symbols. Options include German nachos and currywurst.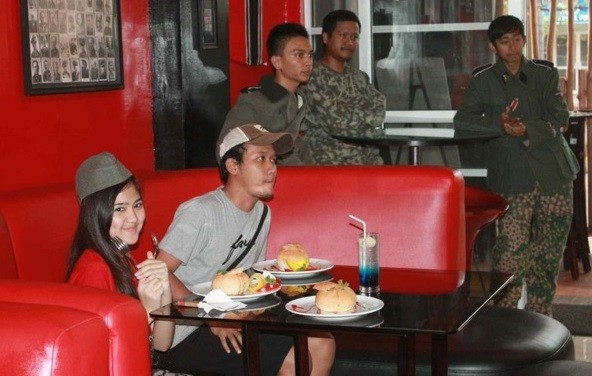 Owner Henry Mulyana said trade has been brisk since opening in 2011, including positive reviews in local media. But all that has changed in the past few days.
The future of Soldeatenkaffee now lies in doubt amid accusations that it incites racial hatred.
Web users reacted with an outpouring of abuse and threats when they were told about the cafe's existence. Mulyana received death threats and he closed the cafe.
Los Angeles-based Jewish organisation the Simon Wiesenthal Centre led the condemnation, calling Mulyana a bigot.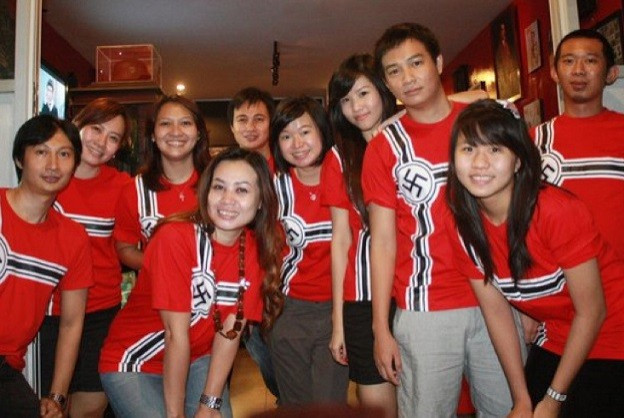 "I've received countless calls and death threats from locals and foreigners," Mulyana said. "I feel traumatised and shocked."
Mulyana is reportedly mulling a rather brazen solution - a new restaurant based on the motifs of the Allied forces from WWII.
Spate of controversy
The controversy in Bandung comes just weeks after students at Thailand's Chulalongkorn University painted a mural of superheroes featuring Hitler.
The man who led the Third Reich and ordered the Holocaust was painted with his arm raised in the Nazi salute, alongside Batman, Superman and Captain America. After being inundated with criticism, the university ordered the mural to be removed and issued a public apology.
Also in Thailand, fast food giant KFC was considering legal action after pictures of a 'Colonel Hitler' chicken resaurant emerged on the internet.
The images depicted a restaurant whose fascia was remarkably similar to KFC's livery, only the word 'Hitler' was emblazoned in place of 'KFC' and an image of the Fuhrer occupied the place of Colonel Sanders.
However KFC's parent company, Yum!, called off the action upon learning that the shop had either already shut down, or never existed in the first place.