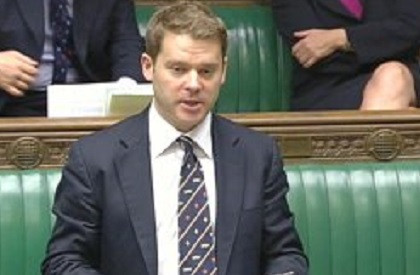 The Tory MP who admitted to attending a Nazi-themed stag do in France is to step down as Cannock Chase MP at the next election.
Aidan Burley, who has held the seat since 2010, announced he would not run at the election because of the the controversy surrounding the Nazi-themed stag night at the Alpine resort of Val Thorens in 2011.
It was revealed that the Oxford-educated Burley had hired an SS uniform to supply to the groom, Mark Fournier. He had also taken part in a "Nazi-themed toast" during the party.
Burley was sacked as a ministerial aide in 2011 when revelations of the party emerged.
An internal Tory inquiry into the incident said Burley acted in a "stupid and offensive way". There had been growing calls for the prime minister David Cameron to remove the whip from the backbencher.
Burley said: "It was a wonderful surprise to win the seat of Cannock Chase in May 2010 with the biggest swing in the country and it has been a huge privilege to represent the people of Cannock Chase in parliament over the past four years.
"I am grateful to all those who voted for me and supported our campaign.
"After a difficult time I have decided I will stand down at the next general election. I will continue to work for the people of Cannock Chase until that election, and look forward to supporting my successor, as soon as he or she is selected, to ensure that Labour have no chance of re-taking this seat."
The report on Burley's actions by Conservative peer Lord Gold said he was not a "bad man, still less a racist or anti-Semite" but had acted in an "unacceptable and offensive way".
Fournier was fined €1,500 (£1,230) by a French court for wearing the SS uniform and was also forced to pay €1,000 in damages to an organisation representing families who relatives disappeared or sent to concentration camps during the Second World War.
In France it is illegal to dress as a Nazi or display Nazi insignia in public. A successful prosecution can lead to a large fine or six months' imprisonment.